Rumor: iPhone 8 to Feature Virtual Buttons Like Android
by Habeeb Onawole Feb 16, 2017 10:37 am0
The iPhone 8 is the name given to the special edition iPhone we are getting this year to mark the 10 year anniversary of the phone. There have been rumors going round that the phone will be the first to sport an OLED display. However, things just got more exciting bout the display.
According to KGI analyst Ming-Chi Kuo, the iPhone 8's 5.8-inch display which is said to take up most of the front of the device will have the lower part reserved for a "function area". This function area is presumed to house unknown virtual keys.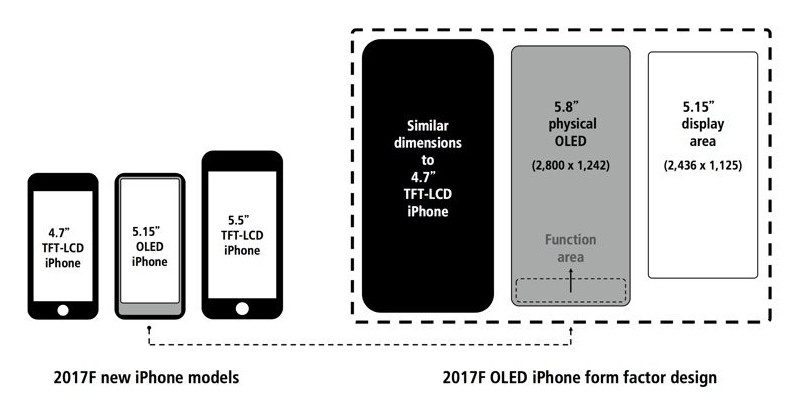 Android devices usually have on-screen navigation buttons or capacitive keys. Some even have both and might even have a physical home button too. Apple is said to be ditching the home button this year which also doubles as the Touch ID scanner.
The rumor is that the function area will be similar to the touch bar in the new MacBook Pro with one of the virtual buttons serving as a home button and the others possibly changing according to the app in use or being preset by the user.
So what happens to Touch ID? Previous leaks had said Apple will use an under-glass fingerprint scanner but Kuo believes that it will be replaced by another form of biometric security system such as an iris scanner.
READ MORE: Apple Tries Again to Sell Used iPhones in India 
Adding this new detail of the iPhone 8 having a function area similar to the touch bar; an iris scanner, wireless charging, and an OLED display and you should have a rough estimate of the price. According to Mr. Kuo, the iPhone 8 will start at $1000 (¥6859). Expensive right? Yes, typical Apple. But even with the high price, he believes that 60% of Apple's 100 million iPhone units target set by apple will be made up of the iPhone 8.