Top 10 Smartphones On AnTuTu In February 2017
AnTuTu's top 10 list of best-performing smartphones in various categories have been released and it covers smartphone brands from around the world and the domestic Chinese brand. The chart is based on the average performance of the smartphones in benchmark tests and the list contains a few new entrants but on the whole several others retain their position. Benchmark test performance is predicated mostly on the processor the smartphone packs and in this case, the Snapdragon 821 continues to dominate.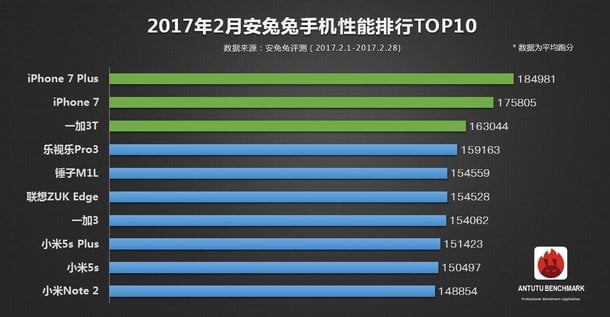 Of course, there are no major surprises as we are yet to see a chipset which squares up to the Apple A10 chip. Qualcomm's latest Snapdragon 835 chip and Samsung's Exynos 8895 would likely trump the Apple flagship chip but they are yet to find their way into smartphones, at least not anyone in the market.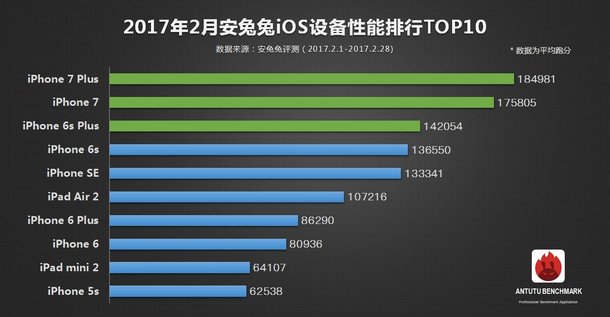 On the overall performance, the Apple iPhone 7 Plus powered by the A10 chip maintain its top position for several months running now. It is closely followed by the iPhone 7 which has a slightly lower clock speed on its chip than the 7 Plus. The iPhone 7 Plus also happens to be Apple's most powerful smartphone at present. At the number 3 position is the Snapdragon 821-powered OnePlus 3T and at number four is the SD 821-powered LeEco Le Pro 3. Smartisan released the Hammer M1L late last year with a Snapdragon 821 chip inside and it occupies the fifth spot.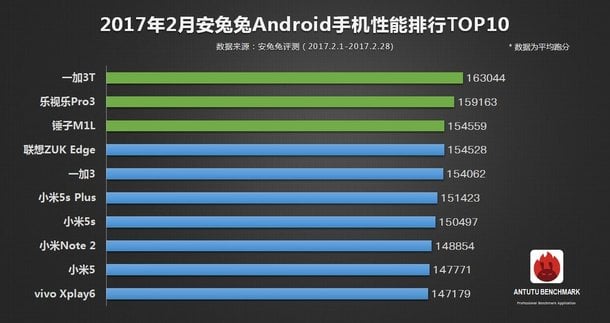 The 6th to 10th position is occupied by Lenovo ZUK Edge, OnePlus 3, Xiaomi Mi 5S Plus, Mi 5S and Mi Note 2 in that order. It is worthy of note that all five smartphones are powered by the Snapdragon 821 but with different clock frequency, hence the varying AnTuTu benchmark score. On the whole, only the Apple iPhone 7 Plus and iPhone 7 use a different chipset other than Snapdragon 821 processor.
Related: Xiaomi Mi Mix Wins Big Time in AnTuTu's Top 10 Phones With the Most Positive Reviews
All eight smartphones are Chinese brands and so occupy the top eight spot in the top 10 domestic brands category. The remaining two slots are occupied by the Xiaomi Mi 5 and Vivo Xplay 6 respectively. Both the Mi 5 and XPlay 6 are powered by the Snapdragon 820 chipset. As a parting shot, it is noticed that none of Samsung's smartphones made it up the ladder into the top 10 and that is a curious scenario. Do you know why? Drop it off in the comment section if you do.
(source)