Fitbit Remains Wearables Market Leader as Xiaomi Records Impressive Growth
by Anvinraj Valiyathara Mar 5, 2017 7:25 pm0
Despite the fact that the demand for wearables have been consistently dropping, International Data Corporation's (IDC) survey for the last quarter of 2016 has revealed Fitbit is leading the market share of the wearables industry. Xiaomi is on the second spot followed by Apple on the third.
In Q4 2015, Fitbit had a market share of 29 percent as it shipped 8.4 million unit. However, in Q4 2016, its market share decreased to 19.2 percent as it shipped fewer devices (6.5 million). Fitbit has been mainly concentrating on selling its devices in the U.S., a market that has huge number of wearables from well-known and lesser known brands.
Xiaomi shipped 2.6 million wearables and had a market share of 9.1 percent in Q4 2015. However, in Q4 2016, it increased its shipments to 5.2 million and gained a market share of 15.2 percent. It has only increased its shipments, but also has been selling its wearables at attractive low prices. Even though the market share of Xiaomi is increasing at a faster pace, its wearables are mainly famous in China as it has not done much to popularize its wearables in international markets.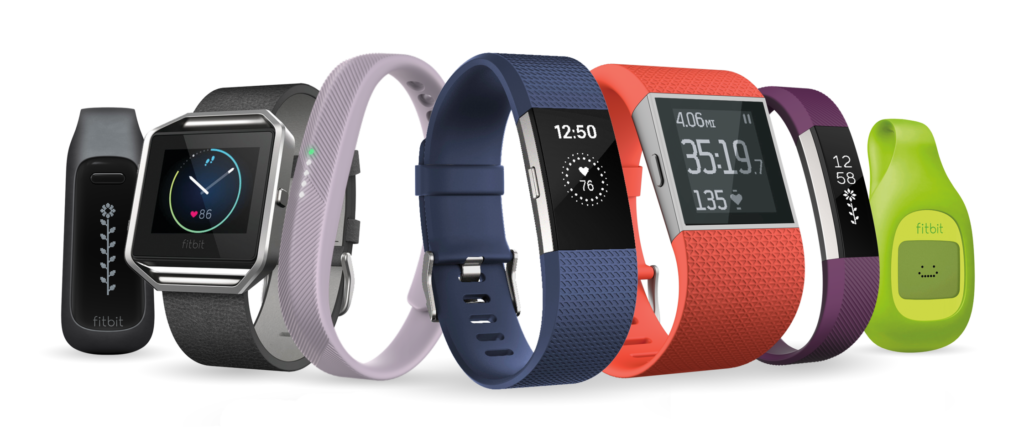 Apple that holds the third sport as it had shipped 4.1 million units in Q4 2015 and it held a market share of 14.2 percent. By Q4 2016, it decreased its slightly increased its shipment to 4.6 million. However, its market share dropped to 13.6 percent. The Q4 2016 has been Apple's best quarter ever when it comes to market share in wearables market as it released a low-priced version of Apple Watch 2 with GPS.
Garmin came fourth with a shipment of 2.1 million wearables and a market share of 6.2 percent in Q4 2016. In the same quarter in 2015, it shipped 2.2 million units and had reached a higher market share of 7.6 percent. Samsung is on the fifth position in the wearables market.  In Q4 2016, it shipped 1.9 million wearables whereas in Q4 2015, it shipped 1.4 million units. As far its market share is concerned, it had a market share of 4.7 percent in Q4 2015, but it increased to 5.6 percent in Q4 2016.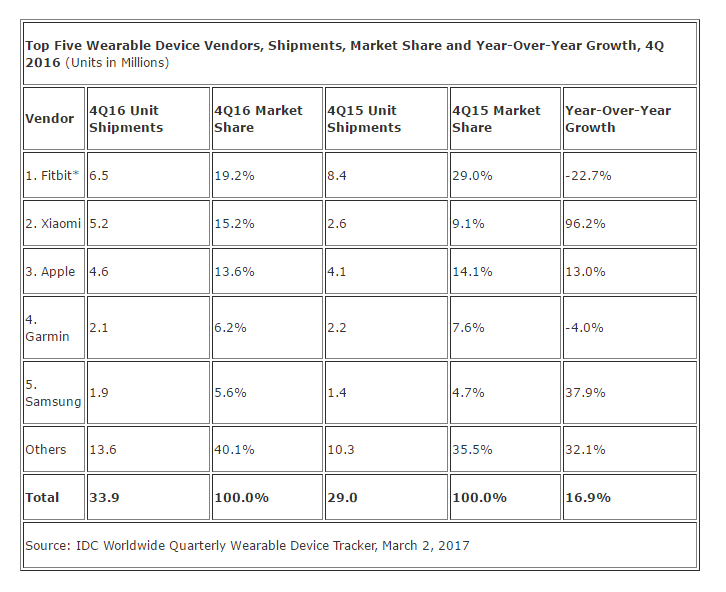 Related:A List of Our Favorite Xiaomi Smart Products
The wearables market is transforming as the basic devices that came with lesser features like tracking footsteps are now coming with multiple health and fitness tracking features such as heart rate monitor, sleep tracking and so on. The first-generation smartwatches came with basic fitness tracking capabilities. However, newer models are not only aimed towards providing health and fitness features, but also function as standalone devices as they support LTE connectivity.
At present, the competition is not very fierce among companies in the wearables market even though vendors are releasing products with numerous features. The Q4 2016 results suggest that Xiaomi is fast gaining the market share and it may dethrone Fitbit to gain the number one spot. Fitbit that acquired Pebble for $23 million is expected to release a health-centric smartwatch later this year to retain its numero uno spot. Withings brand of health-centric smart devices has been rebranded as Nokia devices. The Finnish company too is expected to take on wearables market leaders in this year.
(source)