Ceramic Body Production Capacity Should Increase Soon Following ¥8.7 Billion Investment
by Habeeb Onawole Mar 6, 2017 3:50 am4
The Xiaomi Mi 5 was the first phone to launch with a ceramic body. While it did look nice, Xiaomi couldn't meet up with demand because of the difficulty in production and had to revert back to using metal and glass. We thought Xiaomi had ditched the material since we didn't see it on the Xiaomi Mi 5S and Xiaomi Mi 5S Plus, but to our amazement, it resurfaced in the Xiaomi Mi MIX and not without the same production problems.
It seems we might finally see the end of the production issues plaguing the use of ceramic. According to a Weibo post by industry analyst, Pan Jiutang, he says that leading ceramic manufacturer Changying Precision has announced a joint investment of ¥8.7 billion in the expansion and development of the production process. The investment is said to be due to the popularity of the Mi 5 and Mi MIX which have helped promote the new material.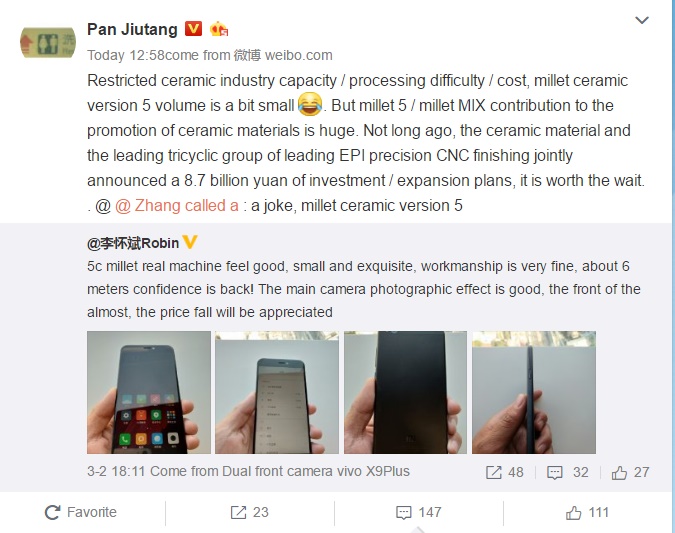 READ MORE: Xiaomi Walkie Talkie hands-on Images Fresh Out of the Box
It is rumored that in the near future ceramic will become the new material manufacturers use in phone production. We have even heard reports that the iPhone 8 will feature a ceramic body.
Do you think it is time for metal to take a back seat in phone production?