Huawei Executive Says 4GB of RAM is Enough, 6GB/8GB RAM is a Waste
by Habeeb Onawole Mar 6, 2017 1:03 am10
Last year, Vivo released the Xplay 5 Elite as the first 6GB RAM smartphone in the world. Just before the year ran out, we saw other manufacturers including Samsung, Huawei, OnePlus, and Xiaomi release their own smartphones with 6GB RAM. Now the race is on for 8GB RAM smartphones. The big question is do we really need such a large RAM on our smartphones? A Huawei executive doesn't think we do.
The Huawei executive took to his Weibo page (@HW  Lao Shi) to express his opinion on phones with large RAMs. According to him, 4GB of RAM is enough for a phone to run smoothly. He says tests have shown that Huawei phones with 4GB of RAM (paired with the Kirin 960) perform better over time compared to the competition with 6GB of RAM. The key, is actually in the optimization of the operating system and he cites an example with how iOS doesn't need a large RAM to run smoothly.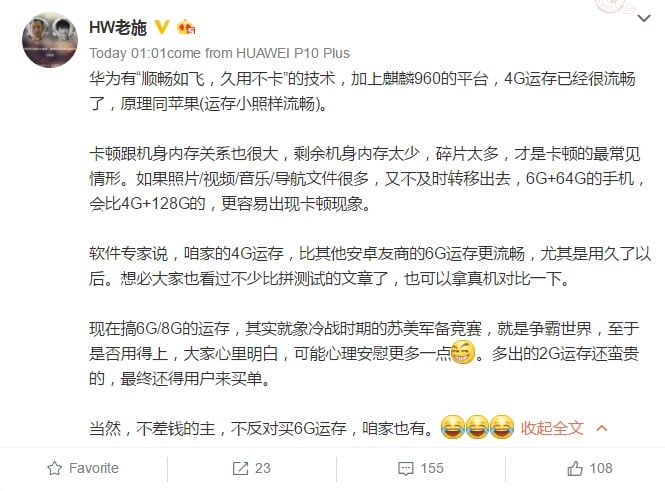 He goes on to say that the competition between manufacturers to release phones with the largest RAM can be likened to the nuclear arms race between USA and USSR during the Cold War.
READ MORE: Honor Magic Hands On: All the Magic is in The Software
Adding that extra 2GB or 4GB of RAM drives up the cost of the phone, and the cost is borne by the users who pay for such phones. Lao Shi isn't saying 6GB RAM phones are bad, Huawei itself has a couple of 6GB RAM phones but he just doesn't believe it is necessary.
(Source)