IBM Files Patent for Pet-Sitting Drone
by Habeeb Onawole Mar 26, 2017 10:52 am0
IBM seems to be taking the functionality of drones up another level with their new patent filing. The application, which was published on Thursday is for a drone that serves as a pet-sitter that monitors and cares for your pet when you are away from home.
Like regular drones, this will also have a camera but for monitoring your pet(s). It will check for abnormal behaviors and take preset actions depending on what it sees. The drone will have a number of additional hardware such as a temperature sensor and a treat dispenser.
Apart from its own built-in functionalities, IBM says the drone can be paired to other IoT devices in the house such as the thermostat, pet feeder and pet door. So the drone will be able to control the temperature of the house, dispense food, and grant access to the pet door if your dog needs to go relieve itself or get some fresh air.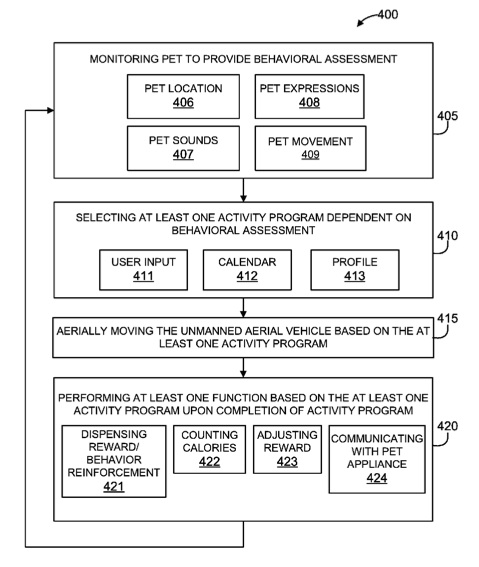 IBM says the drone will also have a calorie counter so it doesn't overfeed the pet. And when your pet is naughty, it will issue out vocal warnings (probably in the voice of the owner) to caution it. It can also be paired to a web-connected collar that controls the dog. Another feature will be the ability for owners to pair to the drone via their smartphone or computers and see in real time what their pet is up to.
While the idea is nice, it remains to see how pets will react to a non-human monitoring them. Owners may have to train their pets to recognize the drone as an extension of their authority.
READ MORE: IBM And Samsung Top List of Patent Filers in 2016, Apple Missing from List
Does this mean IBM is working on a drone for pets? It is too early to tell. Chances are they are building up their patent library and may license it to another manufacturer for use. It is not unusual for corporations to file patents for random technologies, some which may not even be used until years later.
Another way to look at is that, IBM probably saw a problem in the pet industry which is lucrative by the way and put together a team of researchers to tackle it. It is left for companies in the pet industry to pick up the idea and see to the manufacturing of the drone. All IBM has to do is sit back and watch the money from royalties roll in.
(Source)