OnePlus 2 Android 7.1.1 Nougat Update Finally Nearing Release
by Anvinraj Valiyathara Mar 28, 2017 7:28 am1
OnePlus has released Android 7.1.1 Nougat customized with OxygenOS 4.1.0 skin for OnePlus 3 and 3T users earlier in this month. The update is expected to soon arrive to OnePlus 2 users as it has been spotted with Android 7.1.1 Nougat on Geekbench benchmarking platform.
Since OnePlus 2 with Nougat update has appeared on Geekbench, it seems that the Chinese manufacturer is testing the new software update on the flagship phone from 2015. At present, the most recent update for OnePlus 2 brings Marshmallow flavored OyxgenOS 3.5.8 that also includes Android Security Patch for this month.
OnePlus is expected to be more careful in launching a stable Nougat update for OnePlus 2. The reason behind it is that the Chinese firm's first iteration of Android 7.0 with OxygenOS 4.0.1 update that arrived at the end of December 2016 for OnePlus 3 and OnePlus 3T was riddled with bugs.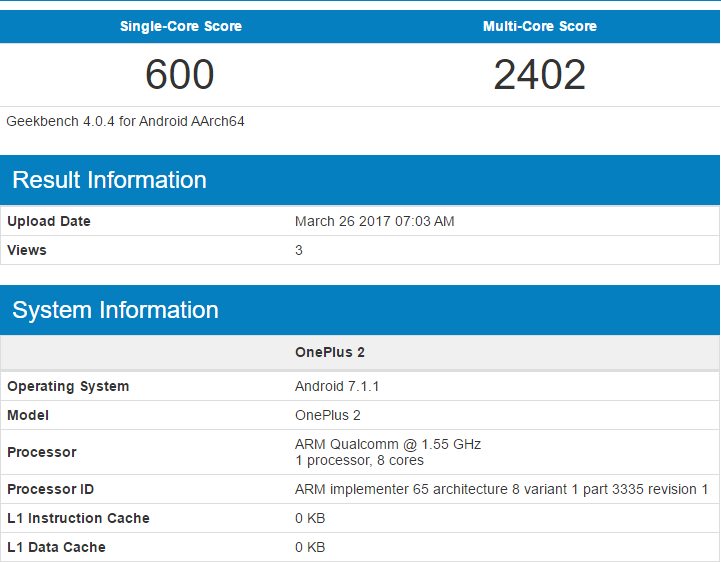 Related: Jingdong Mall and OnePlus Sign 3-Year Sales Exclusivity Deal
In mid-January, OnePlus had released OxygenOS 4.0.2 update to fix issues like fluctuating Wi-Fi connectivity problems and Google Play Store download bug. The OxygenOS 4.0.3 that arrived in February brought improvements to Wi-Fi connectivity, camera app and more.
On a side note, a recent report revealed that OnePlus 3, and 3T running on OxygenOS 4.0.3 were susceptible to major hack attack through a malicious charger. However, the newer OxygenOS 4.0.4 plugged the issue. OnePlus 3 and 3T users have also received the Google Assistant update in this month.
It took nearly 3 months to release a stable version of Nougat to OnePlus 3 and 3T users. It seems the arrival of Nougat update for OnePlus 2 got delayed as the company seems to have prioritized on releasing stable Nougat update for its 2016 flagship phones. The Android 7.1.1 Nougat update with the latest OxygenOS may possibly arrive to OnePlus 2 users in April or May. OnePlus 2 users will also get Google Assistant update.
The older OnePlus X and OnePlus One do not quality for Nougat update as their Snapdragon 801 processors do not support the graphics driver of Android 7.0 Nougat.
(source)