Galaxy S7 Edge Dies in a Week of Purchase, Samsung Wants Customer to Sign NDA to Get it Exchanged
by Anvinraj Valiyathara Mar 29, 2017 3:27 am4
Samsung has been in the news since several months. In the second of 2016, it was in the headlines for the Galaxy Note 7 debacle. And from the last quarter of 2016 until today, the rumor mill has been consistently revealing leaked photos and specifications of the Galaxy S8 and Galaxy S8+ that are going to be officially unveiled today. The Seoul-based tech giant is also in the news today for denying a replacement device for a faulty Galaxy S7 Edge to a Singaporean man unless he signs a non-disclosure agreement that states that he won't be publicly criticizing Samsung over the faulty device.
Lim Dao Qing Brian From Singapore had purchased the Galaxy S7 Edge on Feb. 17. The S7 Edge could last only till Feb. 23 as it died after overheating. It could never turn on again. He went to the Samsung store to get it exchanged under warranty. However, in order to avail an exchange, Lim was asked to sign a non-disclosure agreement, which includes the following text:
"By accepting the Mobile Device, you agree not to directly or indirectly (including anonymously or by pseudonym) make, issue, release, disseminate, publish or re-publish to the media (including without limitation, Facebook, Twitter, or in any other way on the internet) or to any person or entity any statement, comment or remark that would tend to disparage, derogate, criticize, embarrass or humiliate Samsung (including, Samsung products, services, employees, agents or executives)."
Even though Lim was trying to avail a replacement as his S7 Edge is in warranty, Samsung's NDA states that it "is a gesture of goodwill" on its part to provide him with an exchange. Here is the snapshot by Lim that shows Samsung's NDA: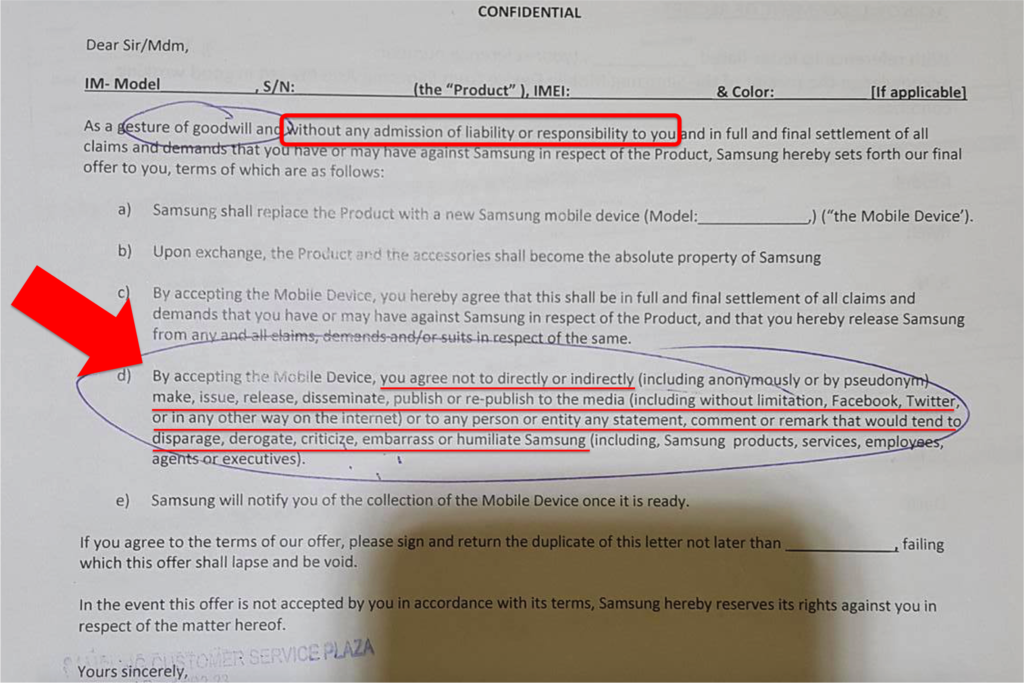 Related: Samsung Already Going Up in Flames Before Galaxy S8 Launch?
Since Lim refused to sign the NDA, he was not provided with a replacement phone for this faulty Galaxy S7 Edge. On sending an email to Samsung to address the issue, he was assured that someone was looking to the matter. On March 24, Lim contacted Samsung Mobile Singapore on Facebook and he was told that the customer care will look into the issue and get back to him next week.
Since there was no update from Samsung, Lim sent an image of the NDA to Samsung Mobile Singapore on Facebook. He was replied that the "this is a standard agreement and procedure between Samsung and our customer as one-to-one exchange is only applicable under special circumstances such as your case."
The text on the NDA clearly suggests that after the Galaxy Note 7 fiasco the South Korean company does not want to get publicly criticized and get into a new controversy for a faulty device. It is not known for how long the company has been asking its customers to sign a NDA to exchange a faulty phone. Also, it is yet to be known whether Samsung's customers outside of Singapore have also been also been asked to sign such an agreement.
(source)