Huawei's Earnings Affected as it Spent More Revenue in Rivaling Apple, Samsung
by Anvinraj Valiyathara Mar 31, 2017 7:49 am0
Huawei is currently sitting on the third position behind Apple and Samsung in the global smartphone manufacturer ranking. However, the company's efforts on gaining grounds on market leaders have led to slower growth in its revenues.
Huawei has shifted its focus from its telecom equipment business to smartphone business. However, such a shift has led to decline in the net profit margins for two years in a row. According to a recent report from Bloomberg, Huawei has put a lot of money into research and marketing to rival against Apple and Samsung. Compared to its net income revenue in 2011, Huawei gained only one-third revenue in 2016. It is the slowest growth rate since 2011.
Even though it is a relatively new brand in the smartphone industry, it has rapidly grown to become the third smartphone maker in the world. However, to expand at such a faster pace, Huawei has input a lot of money in research and marketing. The following graph shows that the company's research and development costs have increased seven-fold since 2007.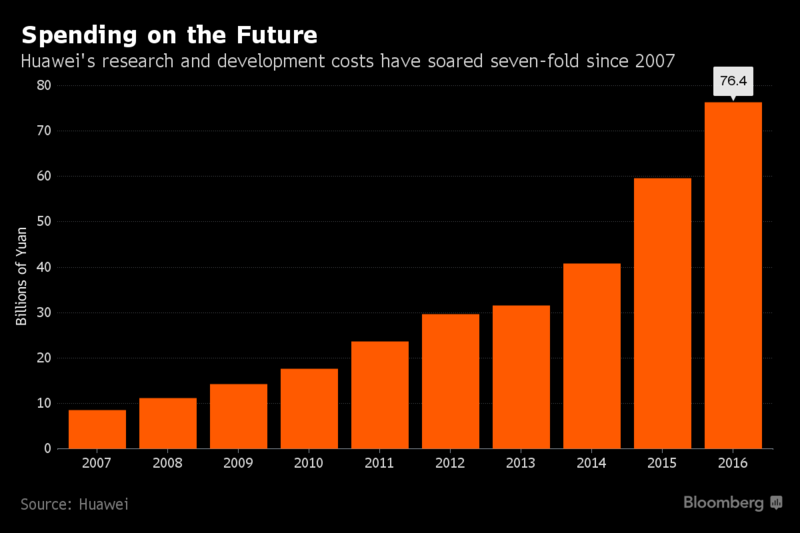 Related: An Analyst Believes Huawei Will Topple Samsung to Become Apple's Main Rival
On Friday, the company has said that  from the revenue it earned in 2016, it has spent 14.6 percent on R&D. It plans to use $10 to $20 billion annually for R&D as the company plans to research and advance in various segments like preparation to support 5G standards, artificial intelligence, wireless technology and cloud computing.
According to Huawei Chief Financial Officer Sabrina Meng, "In 2017, we will continue to boost the efficiency and quality of our operations to ensure solid growth," Since December 2016, the company has started cutting costs that go into mega marketing events as growing expenditure can affect efficiency and profitability of the company.
Huawei is earning lesser revenue from its main business of networking equipment as the firm aims to achieve more sales through consumer business like cloud computing and smartphones. It wants to become word's larger smartphone maker by 2021 by expanding its sales in international markets, but at present it is heavily reliable on sales from home market as China contributed 45 percent of revenue in 2016 and 42 percent in 2015. Moreover, Huawei is under threat in the home market from brands like Oppo and Vivo.
(source)