Trinity is 5-inch Android Smartphone That Doubles As A Full Windows PC
by Habeeb Onawole Apr 12, 2017 10:28 am6
If someone were to do a search on crowdfunding platforms, you are sure to come across some pretty interesting discoveries.An example is this smartphone called Trinity that runs Android but also functions as a full Windows PC. This is different from a dual-boot device that has both Android and Windows installed. It has separate hardware for both operating systems and can run Windows and Android simultaneously even letting you switch between both, without shutting one down.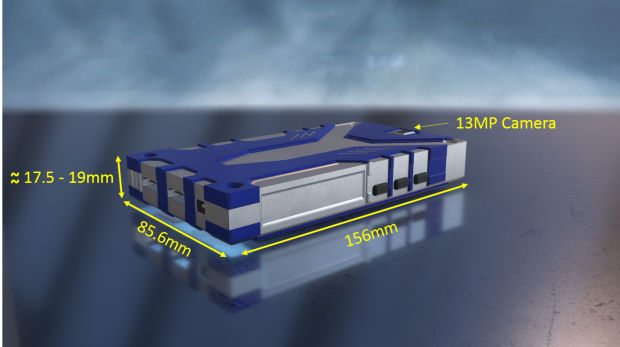 Trinity is being developed by Shane Lewis and now he wants you to crowdfund his idea so he can start shipping by the end of the year. The specs for the device are not mind-blowing since Lewis is working with old components. It will run Windows 10 and unspecified version of Android. It is also really thick at 17.5mm with a possibility of reaching 19mm when finished.
Trinity Specs
5-inch 800 x 480 display
*Intel Atom E8000 processor
*4GB DDR3L RAM
*128GB storage
*USB 3.0 port
*1 Windows only HDMI port
1 Windows/Android HDMI Port
**Freescale i.MX6 processor
**2GB RAM
**32GB MicroSD card
**4G LTE (CDMA & GSM)
**GPS
Stereo Speakers
13MP rear camera
802.11b/g/n WiFi and Bluetooth 4.1
Key: *Windows, **Android
READ MORE: Windows Phone Is AS Good As Dead in China While Android & iOS Continue to Soar
Trinity Price
The specs above are for the entry model Trinty One and will set you back $699. For $869, you get the Trinity Turbo with a Pentium N3710 processor, 4GB RAM & 128GB storage. If you raise it to $959, you get the Trinity Ultimate with the same Pentium N3710 processor but the RAM and storage gets boosted to 8GB and 256GB. Storage for android is also raised to a 64GB microSD card.
If Shane Lewis meets his $767,000 goal on Indiegogo, he plans to begin shipping in December.
(Source)