OnePlus 5 "A5000" Seen Getting Chinese Radio Certification
by Habeeb Onawole Apr 13, 2017 9:44 pm0
The first thing we learnt about the next flagship from OnePlus was the name. You might be wondering why that's important. It is because virtually everyone expected the next phone to be named OnePlus 4, turns out we were wrong. Instead, it will be called the OnePlus 5. The reason is because the number 4 is considered unlucky in China. What about Xiaomi's Redmi 4 series, Redmi Note 4 series and the Mi 4 series? Maybe Xiaomi doesn't believe in superstitions.
Following the revelation of the new name albeit unofficially, there have been lots of renders and leaks regarding the design and specs of the device. However, today we have confirmation of the name.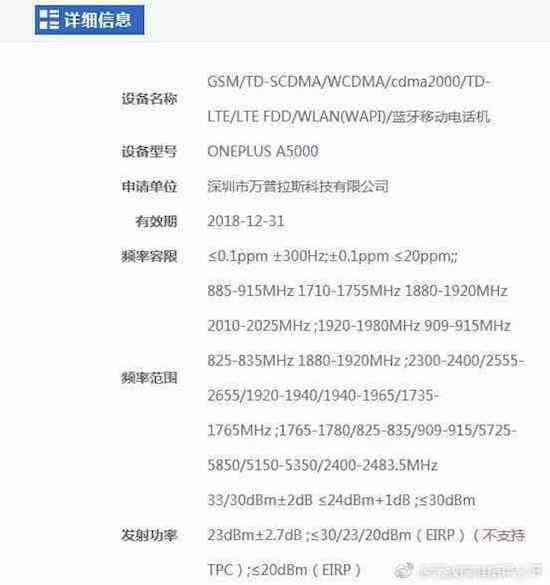 A device listed as the OnePlus A5000 was seen on the website of the Chinese State Radio Regulation Committee (SRRC). A5000 is the model number for the device just as A3000 and A3010 is for the OnePlus 3 and OnePlus 3T respectively. This is the first official proof that confirms it will be called the OnePlus 5.
READ MORE: OnePlus 3T Chrome Variant Spotted Online
OnePlus usually announces their flagship in the second quarter of the year. So there is still more than 2 whole months left to wait. Rumors say the OnePlus 5 will retain its 5.5-inch display size but will scale the resolution to Quad HD. It will also have a 23MP rear camera with OIS and a 16MP shooter in front. Some say it may even have dual cameras and thin bezels too. One thing that's sure is it will be powered by the Snapdragon 835.
(Source)