New Nubia Smartphone Leaked With Flash On The Antenna, Similar To Meizu E2
When Meizu released its budget E2 smartphone not too long ago, what captured the attention of many was the beautiful camera design which the device came with. We had predicted that the design may soon get copied by other smartphone brands but what we didn't bargain for was that it would be so soon. A new Nubia smartphone with a similar flash design has been spotted on Weibo. This time around the device sports a dual camera setup along with the strip flash.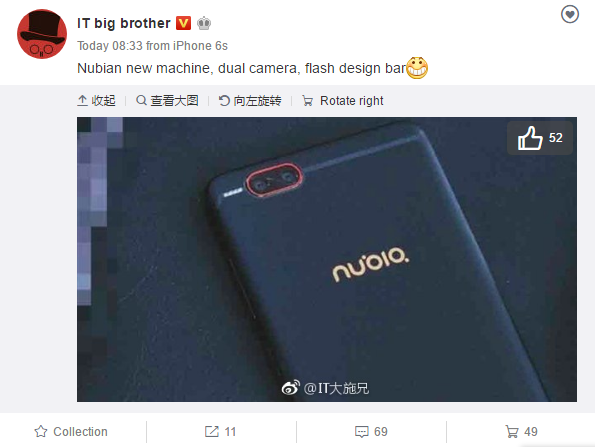 While we are not sure of the authenticity of the leaked image, it looks very much like the Nubia Z17 Mini which was launched recently, except for the flash design. The leaked image shows the strip LED flash is sill located on top of the antenna line but this time around it is at the left side of the cameras unlike the Meizu E2 which was located on the right.
Read Also: Comparison: ZTE Nubia Z17 Mini vs Xiaomi Redmi Pro
Meizu and Nubia once shared something in common and that is the small circle which is used to identify the location of the virtual home button. But Nubia later applied for a patent for the design and so Meizu had to change to its latest mBack button. There is no way to tell if we are looking at a similar scenario here but whatever be the case, the Meizu's latest smartphone was the first device that we first saw the strip LED flash design on. Nubia's co-founder Ni Fei has even denied the existence of such a design, though, but the company is confirmed as launching a new smartphone, the Nubia Z17 which is tipped as packing a Snapdragon 835 chip soon. We'll have to wait and see if this design will feature on the upcoming device.