Xiaomi Mi TV 2017 Flagships Launching in China on May 18
Xiaomi has announced that it would hold a press conference in Beijing on May 18 where it will officially release its 2017 flagship TV in China. The poster released by the company contained just the number "4" which is identified as the flagship TV. This, therefore, leaves no doubt as to the identity of this product and it is likely the Mi TV 4 unveiled at CES 2017.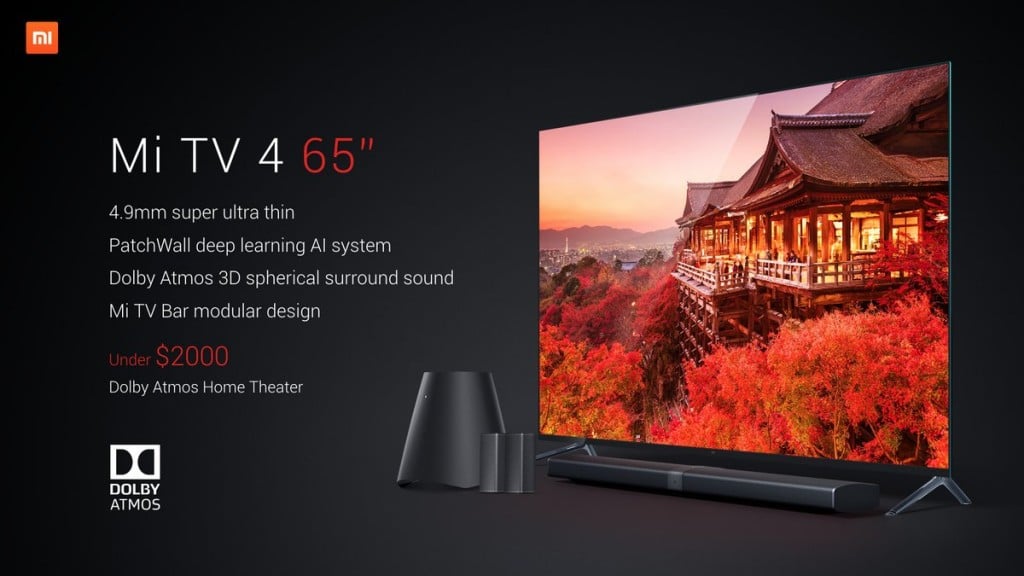 The Xiaomi Mi TV 4 was definitely the stand out product which Xiaomi unveiled on its debut appearance at CES 2017 in Las Vegas. The Mi TV 4 comes in three different sizes namely 49 inches, 55 inches and 65 inches, with the 65-inch model having a spectacular modular design which. What this means is that the motherboard, sound system, and the large display are three separate components which can be replaced separately. This is indeed an innovative design making sure that you don't have to shell out a lot of money to upgrade your smart TV. Just replacing the motherboard with a smarter one is enough to bring your TV up to date. Albeit, the 65-inch Mi TV 4 isn't Xiaomi's first TV with a modular design.
On the whole, all the three models are ultra-thin with a narrow frame, having a 4.9mm body which is even thinner than most of the smartphones that are in the market.The SmartTV comes with a sleek metal body and a frameless display which indeed makes it very beautiful. The screen resolution is up to 4K with an overall awesome visual effect and lots of amazing features which would be unveiled on the launch date.
Read More: Xiaomi Announces the Modular Mi TV 4 That's Just 4.9mm Thin!
 We'll get to find out the prices for the Mi TV 4 range on May 18 but Xiaomi did mention at CES that the high-end 65-inch version will sell for under $2000 (around 13,700 Yuan). Xiaomi still has you covered with the Mi TV 4A if that price may be way too much for you.