LG's Patent Reveals Amazing Dual Screen Bezel-less Design that may Arrive on LG V30 or LG G7
by Anvinraj Valiyathara May 19, 2017 4:34 am0
A new patent from LG reveals a new design that appears to be a hybrid of its high-end smartphones from its G and S series. The LG V series has a secondary ticker screen above the main display whereas the new LG G6 came with a widescreen display. According to the images revealed through the patent document, the secondary screen that is present at the top has a selfie camera right at the center and the entire screen sports super-slim bezels.
The design is quite unique and goes well with the current trend of large screen smartphones with thinner bezels. The South Korean company is not shy in trying new ideas. The LG G3 came with rear-facing power and volume buttons. LG claims to have introduced the double tap to wake feature. Also, even though the LG G5 was a failure, it did show the brave attempt of the company to bring modular capabilities on a smartphone. The LG V10 and V20 flagship phones come with secondary ticker screen that gives access to shortcuts to some apps, alerts and quick toggles.'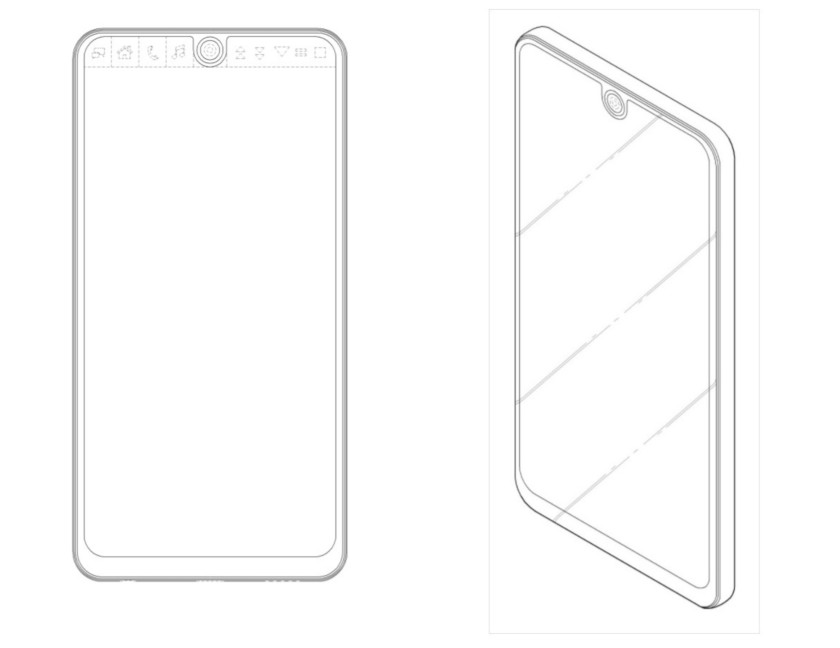 Read More: LG Will Return to OLED Displays This Year Starting With The LG V30
The new patent is dated November 2016 and it has come from Korean Intellectual Property Rights Information Service. From the patent image, it cannot be confirmed whether it has two independent screens or a single display with a break in between to feature the second screen with selfie camera in the upper part. The upper earpiece cannot be seen in the image. It is likely that the company may incorporate a piezoelectric speaker like the one present on Xiaomi Mi MIX.
In the recent years, LG has launched V series phones with flagship specs whereas the G series are the next best smartphones from the company with high-end specs. Since the above image shows the presence of a secondary screen, it could easily end up as a V series phone that will launch in the future. Its bezel-less screen may carry an aspect ratio of 18:9 that was introduced on LG G6.
The bottom side in the new patent shows a single speaker, USB Type-C port and a 3.5mm audio jack. There is no confirmation on whether this new design belongs to the LG V30, but it does suggest that the company may soon introduce this new design.