Sony to Kill Affordable High-End Smartphones; Will Focus on True Flagship and Mid-Range Phones
by Anvinraj Valiyathara May 25, 2017 11:51 am2
Sony has been selling smartphones like Xperia X and Xperia X Compact that come with nearly flagship specifications along with reasonable pricing. Since these smartphones are not true flagships, such phones have met with lackluster sales. Hence, the Japanese company is going to kill affordable flagship phones. Instead, it will focus more on launching true flagship and mid-range smartphones.
In Japan, the affordable flagships could meet 85 percent of the revenue target set by the company. Outside Japan, this number declined to 31 percent. Sony could meet only 43 percent of its global targets in this segment.  During the 2017 Investor Day, the company confirmed that it will be concentrating on releasing premium smartphones like Sony Xperia XZ Premium and Xperia XZs and mid-range phones like Xperia XA1 and Xperia XA1 Ultra. Here are some of the things that were discussed in 2017 Investor Day: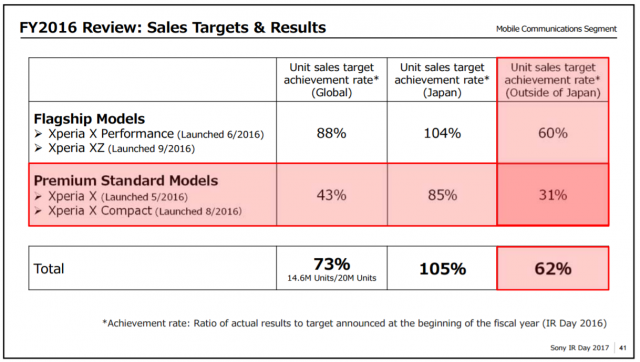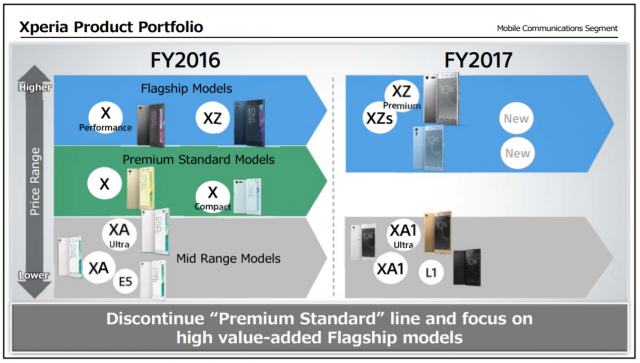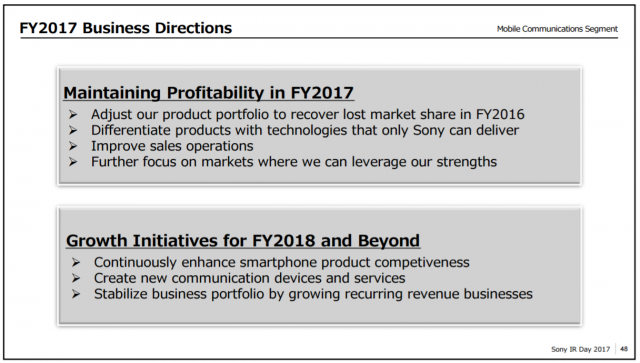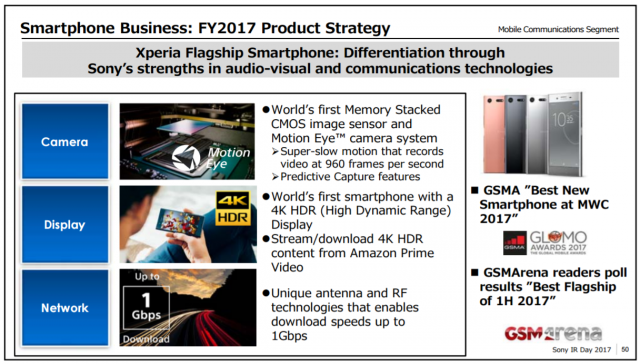 Read More: Sony Xperia XZ1, XZ1 Compact &X1 with SD 835 & SD660 Specs Leaked
Sony smartphones will be coming with certain features that only it can offer.  Sony has introduced the Motion Eye camera system that shoot super slow motion videos at 960 fps. The Xperia XZ Premium is the first smartphone to come with support 4K HDR. This will allow the Japanese company to distinguish its smartphones from other brands.
In the past years, Sony's market share has fallen significantly. However, in 2017, it aims to increase its market share by featuring its smartphones with such technologies that can be delivered by Sony. Since Sony can leverage the brand strength in markets like Japans, East Asia, APAC, Middle East and Europe, it will be concentrating more smartphones in these regions. The company also wants to make it big in India where the market is flooded with plenty of low-range smartphones that earn low profits.
The Japanese company also wants to improve the popularity of its smartphones in the U.S. This is only possible if the company invests a lot of money in advertising. it aims to sell its smartphones in the U.S. by building a strong partnership with the U.S.-based carries. Since Sony smartphones are not available through leading carriers in the U.S., it handsets have met with poor sales.
The Sony Xperia XZ Premium will be launching next month, but the U.S. consumers are unaware of it because of poor advertising strategy in the country. If Sony follows its new plans, it can achieve popularity in the U.S.
(source)