Nokia Revive Series: The Return of The Legends, Starting With The Re-imagined Nokia N97
by Habeeb Onawole May 25, 2017 11:07 am1
As part of Nokia's return into the smartphone market, HMD Global revived the iconic Nokia 3310. The relaunch of the legendary phone brought about a feeling of nostalgia that resonated all over the globe. Now that Nokia is fully back in business, we hope to see more of its iconic smartphones given new life.
Joe and I had an interesting discussion on what phones we hope to see Nokia bring back to life. We narrowed them down to five, but we may add more later on. We decided to share our imaginations with you and also hear your feedback. This will be a series that will run over the next couple of weeks and will be authored by either Joe or myself. What we are hoping to achieve from this series is to re-imagine the legendary Nokia phones of the 2000s and see how could we fit them in the current market scenario. A lot of things have changed since the Nokia times and if these phones were to make a comeback, they would need some serious changes, and not just in the colors, but in everything, including the design and the hardware.
This is how we've imagined the Nokia N97 2017 Edition. Feel free to add your thoughts and comments on what you would like to see if this legendary phone makes a comeback.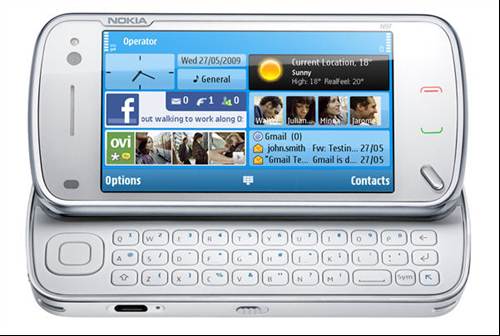 1. Nokia N97 (2017)
The first phone we want to see Nokia bring back is the Nokia N97. BlackBerry has proved that there is still a market for phones with physical keyboards and the BlackBerry KEYone is the example that comes to mind.
The original Nokia N97 launched with a 3.5-inch slide-and-tilt touch display, 128MB of RAM and 32GB of storage. That will get you nowhere in 2017.
To pimp this baby up, we are giving it a 5.5-inch FHD display with thin bezels on all sides but a large enough one at the bottom to hold a fingerprint scanner. It will be powered by a Snapdragon 660 processor, while the RAM gets a massive boost to 4GB and storage starts at 64GB. I know you would be tempted to get the SD835 in this baby, but remember, we have to keep the costs reasonable.
The highlight of the N97 is its keyboard, which can only be used in landscape mode. To make navigation easier, we think the keyboard should work like that of the Blackberry Priv. That means we are ditching the D-pad navigation buttons on the original N97. The whole keyboard will now serve as a trackpad so you can navigate through apps and menus without touching the screen.
The original N97 had a 5MP Carl Zeiss sensor for its rear camera. That is unacceptable in this age. We'll swap it out for the 12MP Sony IMX378 sensor and ditch the slide that covers it. The VGA front camera also gets bumped to a very decent 8MP shooter with a dedicated flash.
READ MORE: Nokia 9 Gets Benchmarked as HMD Global TA-1004, Sports Snapdragon 835 and Insane Multi-Core Score
The new N97 will feature a 3300mAh battery with Quick Charge 3.0 and have stereo speakers at the top and bottom bezels that pump sounds directly at you. The new N97 will also run Android Nougat 7.1.1 or Android O depending on when it is announced.
Pricing will start at $400 for the 64GB version and $450 for the 128GB version. It will launch in navy blue, black, and silver.
What do you think of the Nokia N97 (2017)? Are there any features we might have missed? Please, do drop a comment.