Exynos 9610 Chip Details Leak: 14nm Process, Q4 2017 Release
There are indications that Samsung may be working on a new mid-range chipset which is said to go by the name Exynos 9610. Samsung already has the Exynos 8895 chip featured on its latest high-end Galaxy S8 models which also use Qualcomm's Snapdragon 835 chip. The Exynos 9610 is said to be due to the release of the Snapdragon 660 chip which is a mid-range chip. The Exynos 9-series will be a new series on its own, according to the source.  Recall that Samsung had teased the launch of an Exynos 9-series chip some time ago but instead launched the Exynos 8895. But the Exynos 9610 is tipped as the true Exynos 9 series eve though we wonder why the 9 series would be a mid-ranger.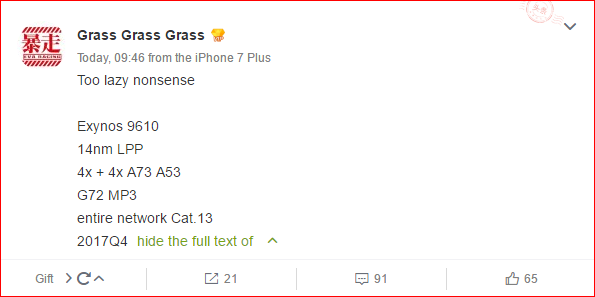 Configuration wise, the Exynos 9610  is said to be manufactured using the 14nm LPP process and integrates the entire network baseband. The chip is made up of four Cortex -A73 cores and eight Cortex-A53 cores. The Exynos 9610 is also said to feature a G72MP3 GPU which looks like a Nvidia GPU.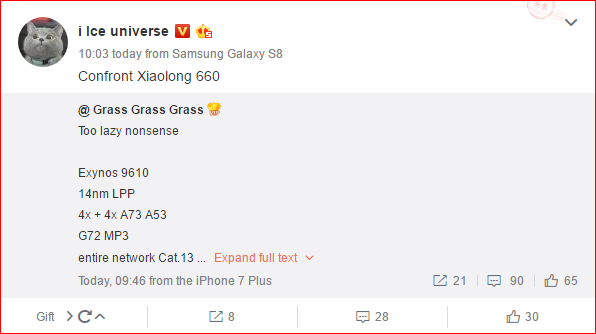 Read More: Meizu's Exynos 7872-Powered Smartphone's Specs Sheet Leaks
Further, the Exynos 9610 is expected to debut in the fourth quarter of this year and may likely be used by Meizu first.  We had earlier heard that the Exynos 7872 chip which was spotted on the specs sheet of a Meizu phone will also debut this year and that rumour joins this as well. We can't say how true this is anyway. Already, OPPO is gearing up to utilise the Snapdragon 660 chip and should be launched any moment from now. We may likely be seeing the chip in benchmarks if this rumour turns out to be true.
(source)