Xiaomi's Upcoming Crowdfunding Product Could Be a Ice Box Machine
Xiaomi has continued with its continuous releases under the MIJIA brand as it prepares to announce the 90th and 91st crowdfunding product on June 15. This is coming barely two days after the company announced its 89th product which turned out to be a multi-functional portable blanket.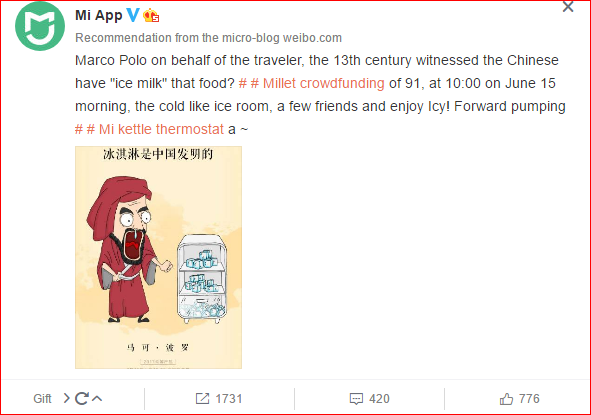 Th 90th Crowdfunding product looks more or less like a shelf but what caught our attention the more is what the 91st product will likely be. The teaser, as usual, did not state what product we should be expecting but there are some vital clues pointing in the direction of the likely product. The poster contains the sketch of a box with a glass door and what looks like ice blocks inside. Accompanying the sketch is a couple of texts which mentioned Venetian explorer Marco Polo who exposed the existence of China to Europe during his travels. Marco Polo was said to have documented that he witnessed that 13th century  China had ice-cream.
Read More: The Every Night Multi-Functional Portable Blanket Costs Just ¥99 ($15)
The Weibo post also describes the product as being cold like ice room. From the clues, we suspect this is an ice box which can keep things cold and preserved. The product will be officially unveiled on June 15 by 10 AM. We'll find out more on that when it is launched.
(source)