Chip Wars: Google Employs Former Apple CPU Architect To Lead Its Processor Department
by Habeeb Onawole Jun 13, 2017 8:23 pm3
The chip wars just got more interesting. Early this year, when news of the second-gen Pixel smartphones started to surface, there was a rumor that Google was working on its own chip. Some even speculated that Google was collaborating with MediaTek on the project. While the latter part seems unlikely to be true, Google is indeed working on a chip and it made its first major hire recently.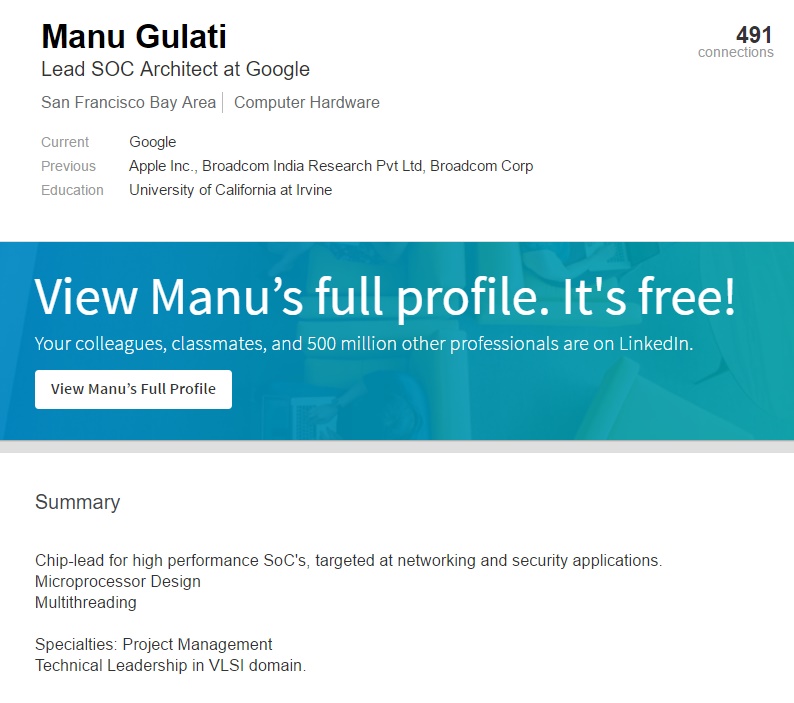 Manu Gulati used to work for Apple up until April 2017, but if you take a look at his Linkedin page, he now works for Google. His new role there is Lead SOC Architect. Let that sink in!
Mr. Gulati is reported to have played a key role in the development of Apple's custom A-series SoCs. We don't need to explain how powerful Apple's chips are. The chips are well optimized for iOS that's why they perform excellently well.

Google is getting serious with its hardware business and it started last year with the Pixel and Pixel XL, two devices that define what it believes Android smartphones should be. Now it is taking things further by developing its own custom chips that will power future Pixel phones and probably other Google devices.
Just like the Pixel phones, Google's chip(s) will be designed how they want and how it should work with Android. If things go well, it may end up licensing its designs to other manufacturers.
READ MORE: Qualcomm's Flagship Chip for H2 2017 Could Be Snapdragon 836
Mr. Gulati has years of experience working on chips. before he joined Apple in 2009, he used to work for Broadcom and before that, he worked at AMD. We wish him best of luck in his new role and look forward to the amazing things his team comes up with.