Sketchy OnePlus 5 Renders Leak Along With Unofficial Case
Fueling the hype of the OnePlus 5's release on June 20, a questionable render leak has been revealed showing the front of the OnePlus 5 alongside what could be an unofficial case.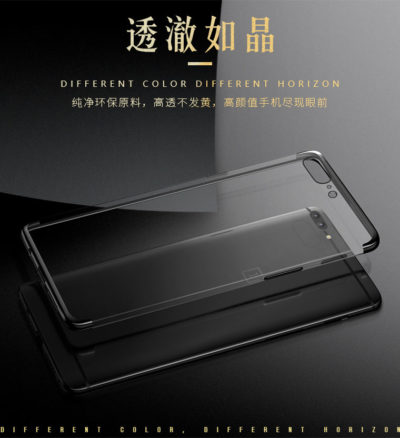 According to report, the case has been officially named "The OnePlus 5 Electroplated Transparent Clear Silicone TPU Cover", published on a site named, 'Case Fanatic'. From further exploration, the website specializes in selling cases primarily for smartphones, but also cameras and select laptops. This unofficial render may prove to be the most accurate so far, however, everything is up in the air until OnePlus releases the smartphone.
From the gallery attached below, we can see initial inaccuracies with the top of the phone, where official images show a more tapered edge instead of a filleted one on the unofficial renders. However, the back of the phone resembles closely to the official, the dual camera setup and single flash, as well as an antenna line on the bottom half.
RELATED: OnePlus 5 Leaked Real Photo Gives Us First Glimpse of Entire Device
Although the OnePlus 5 hasn't been released, casefanatic.com has jumped the line and has listed black and gold variants costing $15. For the eager lot who would also like to jump ahead and stock on OnePlus accessories, it is important to note that any pre-release accessories must be thoroughly considered before purchasing, as products may or may not be 100% accurate to the released model.
What are your thoughts on these renders? Do you provide enough evidence for you to purchase OnePlus 5 accessories before launch? Leave your thoughts and comments below.