Some Moto Twitter Accounts have Switched Back to Motorola
by Habeeb Onawole Jul 2, 2017 2:43 pm2
It started out as Motorola but when Google acquired Motorola Mobility in 2012, phones from the American company were released under the Moto brand name. Fast forward to 2016 after Lenovo acquired them, the Chinese electronics giant announced a change to "Moto by Lenovo", putting aside the Motorola name.
The announcement was made by Rick Osterloh, former Motorola Chief Operating Officer at CES 2016. His statement back then was "We'll slowly phase out Motorola and focus on Moto,". At the moment, it seems the Motorola name is being resurrected.
The Moto name was used by a number of the smartphone maker's official Twitter accounts up until a few days ago. If you check now some of them have switched back to Motorola.
An example is the Motorola USA account. The account went by Moto US @Moto_USA but has now been changed to Motorola US @MotorolaUS.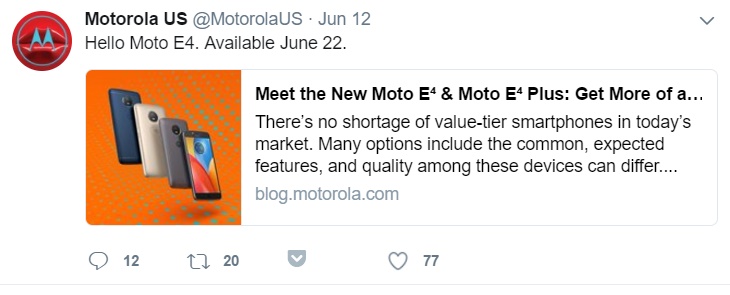 READ MORE: Motorola Verve Cam+ Silently Launched on Amazon with $108 Pricing
Motorola Canada has also made the change but their handle is still @Moto_CAN. The global account is still @Moto so also is the Indian account. It seems the change is limited to North America and only the name for now as the batwing logo is still the same across all accounts. We don't know what Lenovo is brewing but we are keeping our ears on the ground.
(Source)