Deals: Top 5 Android TV Box Promotion On Gearbest
Buying an Android TV Box or set-top box can be a pretty difficult decision because there are a thousand and one of them out there in the market. In such situation making the right choice can be tough. We'll try to make that choice easy for you by showcasing the top 5 Android TV box on GearBest's ongoing mid-year sales. The cool thing is that Gearbest is running a promotion and you can get the TV box of your choice at a slightly reduced price using available coupons.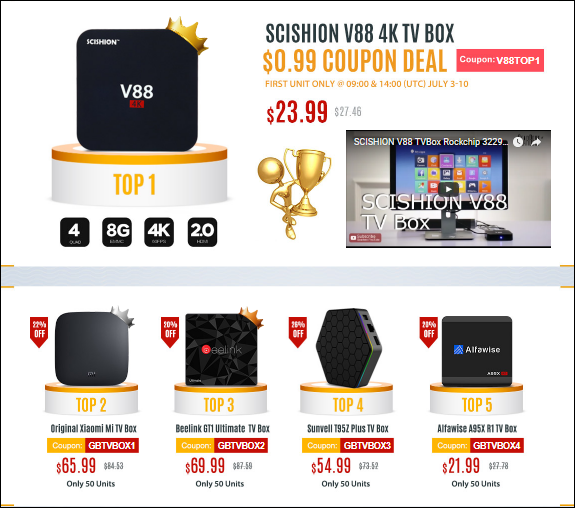 In case you don't know what an Android TV box is, it's a small set-top box that runs on Google's Android operating system or a re-skinned version of it. These incredibly flexible devices allow you to stream content to your TV over the internet or from local storage on the device.
TOP 5 Android TV Box on GearBest
Scishion V88 Android TV Box
The Scishion V88 is one of the affordable but powerful TV boxes around and it is no wonder it sits at the first position. At just $23.99, the TV Box offers high-quality streaming, including at 4K. The TV Box packs 1GB of RAM, Rockchip 3229 Quad Core processor, runs Android 5.1 and support 4k video playback.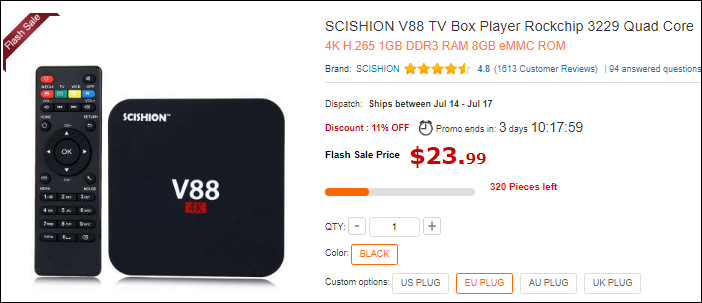 The V88 is certainly worth the money if you a looking for a cheaper, easy to use media player for playing your local media files and is a great option for the kids or if you are looking to take something on a holiday with you for entertainment.
2. Xiaomi Mi TV Box
There are lots of great Android TV boxes out there, however, a large number of them retail for around $100 or more and although those boxes are great sometimes we want something that is a little bit more friendly to our wallet. This is where the Xiaomi Mi TV Box comes in, offering a quality Android TV box for just $65.99 with coupon code – GBTVBOX1.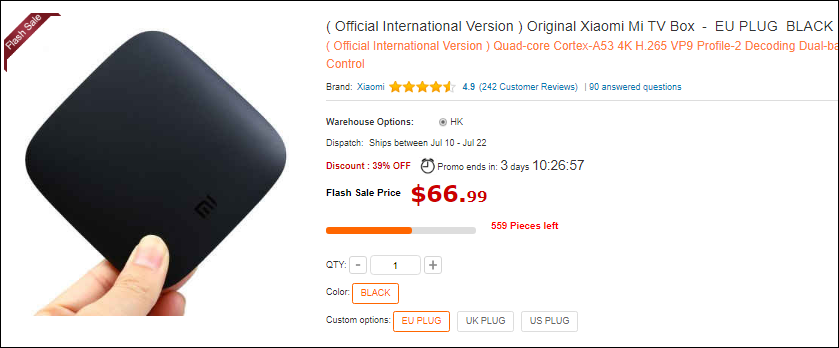 The Mi TV Box also supports 4K streaming and is powered by a Quad-core Cortex-A53 SoC as well as a Mali-450 GPU backed by 1GB RAM and 8GB storage. The Xiaomi TV Box supports Bluetooth voice remote control as well as Dolby and DTS encoding for a smooth surround sound. It features HDR 4K H.265 VP9 Profile-2 4K Decoding which provides users with a view in vivid contrast, color and clarity.
3. Beelink GT1 Ultimate Android TV Box
The Beeling GT1 Ultimate Android Box doesn't skimp on the features just because it comes in at a low price point. It features an octa-core Amlogic S912 CPU which enables you to have a smooth entertainment experience. It also has a 3D noise reduction filter. The TV Box runs Android 6.0 Marshmallow and has dual Dual Band WiFi 2.4G plus 5.8G which has the ability to improve the speed with which the device can implement multi-task. The TV Box supports KODI, but you need to install it by yourself.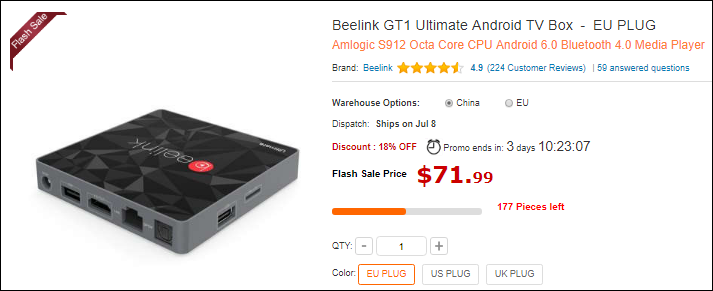 The Beelink GT1 Ultimate is available on GearBest for $69.99 with Coupon- GBTVBOX2.
4. Sunvell T95Z Plus Android TV Box
Sunvell T95Z Plus is available in 3GB DDR3 RAM + 32G eMMC ROM and  2GB DDR3 RAM + 16G eMMC ROM versions, both expandable up to an additional 64GB. The  2GB version of this TV Box is presently available for $54.99 with Coupon – GBTVBOX3.

The specifications include an Amlogic S912 Octa Core CPU as well as Dual band WiFi plus 1000M LAN which can improve the speed and the performance to a large extent. The large storage gives you more space to download your favourite apps to browse websites, play games, watch movies more smoothly.
5. Alfawise A95X R1 TV Box
The Alfawise A95X R1 Android TV Box is the cheapest among the lot at $21.99 but that does not make it less efficient. It comes with a high-performance quad-core Cortex A7 CPU which can play a wide range of games. The TV Box also supports 4K video streaming which gives you a high-quality video experience. 4K H.265 decoding can help you save 50 percent bandwidth resource, and deliver razor-sharp detail and vibrant images. It runs Android 6.0 which provides users with the benefit of using all the latest updates and having access to all the tools, games, and Apps at the play store smoothly. It also comes with a remote control, just like the others.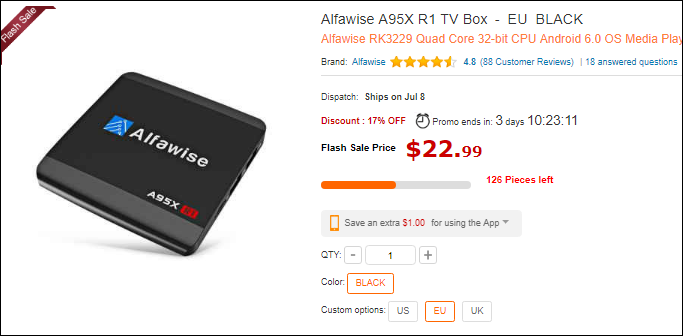 The Alfawise Android Box presently carries a price tag of $21.99 with Coupon code- GBTVBOX4.