The pre-orders of the Nokia 6 began earlier this month in the United States on Amazon and the shipping of its Black and Silver variants began on July 10. Within 24 hours of being available for purchase on Amazon, it has become bestselling unlocked smartphone on the retailer site.
When the Nokia 6 debuted in China through JD.com, the smartphone sold out several times on the retailer site. Now, it seems to be selling like hot cakes on Amazon US. The Nokia 6 with Amazon Prime is at present on the second position while the regular edition of the phone ranking on fourth position. The first position is occupied by the unlocked Galaxy S8. The second and third position are occupied by other phones like Moto E and Alcatel A30.
The Prime edition of Nokia 6 is available for $179 as it carries a $50 discount. It is only available for Amazon Prime customers. The discounted Nokia 6 for Prime users come with Amazon offers and advertisements. The standard edition of the phone is priced at $229. Both the models are unlocked and only support GSM networks like AT&T and T-Mobile in the U.S.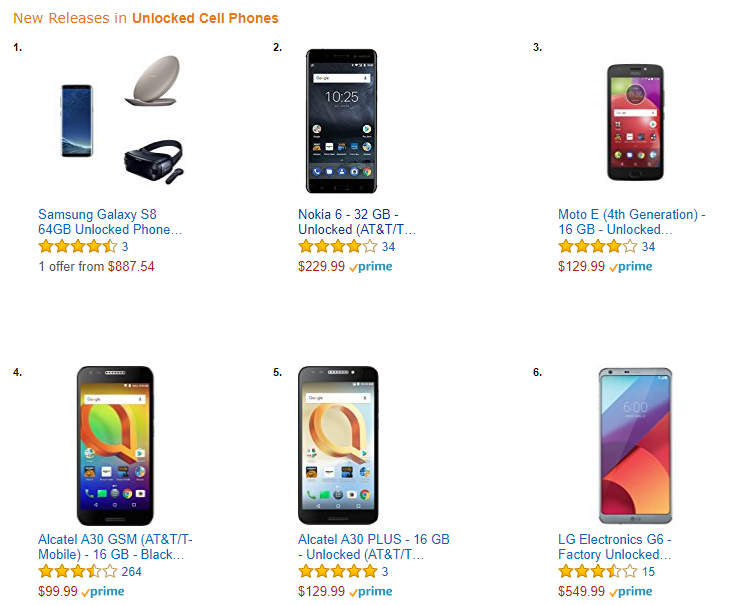 Read More: Images of Nokia 9 Cases Leak, Shows Vertical Dual Cameras and Curved Design
The Silver edition is only available in Standard variant. Only the Black model is available in Prime and Standard variants. There is no confirmation when Arte Black edition would be releasing in the U.S.
Recently, it was confirmed that Nokia 6 would be launching in Tempered Blue and Copper variants. The Copper Nokia 6 will be coming in the U.S. in Prime and Standard models. There is no confirmation on when the Tempered Blue or Copper Nokia 6 Standard edition would be arriving in the U.S. The Copper Nokia 6 Prime edition will be releasing on Aug. 18.
The Nokia 6 is a midrange phone that comes with a resilient body. It features a 5.5-inch full HD screen and it is fueled by Snapdragon 430 chipset. It features a 16-megapixel rear camera and a 8-megapixel selfie snapper. It is packed with a 3,000mAh battery. The phones comes loaded with Android 7.1 Nougat and it is slated to get Android O before the end of this year.
(source)