Samsung Galaxy Note Fan Edition Teardown Reveals Internals
Samsung Galaxy Note Fan Edition is the refurbished units of the ill-fated Galaxy Note 7 that is best known as the "exploding flagship". The new Galaxy Note Fan Edition was launched in South Korea about two weeks back and is tipped to go on sale in other regions soon. Before the Galaxy Note FE hits your region, we have got the teardown for the device revealing the internals.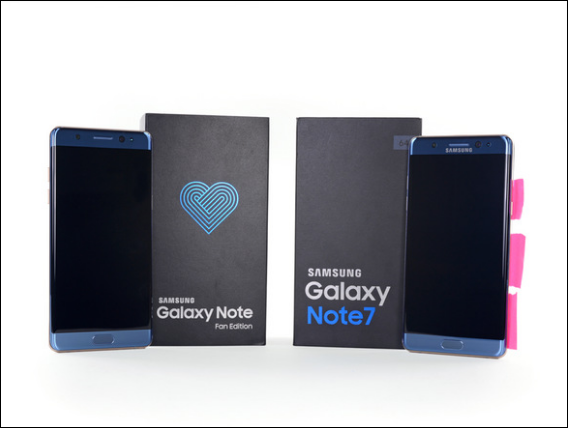 The Samsung Galaxy Note Fan Edition teardown comes to us courtesy of the guys at IFIXIT and it gives us the opportunity to compare the Note 7 with the Note FE. As we already know, the Galaxy Note FE comes with exactly the same design as the botched Note 7. The internals also looks alike except for some changes. The battery obviously is one of the things that were changed on the new Galaxy Note FE. The new battery is labelled with a June 20, 2017 manufacture date and weighs about 2.3g lesser than the Note 7's. The battery is also a non-removable one.
Read More: Samsung Galaxy Note FE Global Launch May Happen this Month
Also, the teardown reveals that the Note Fan Edition uses an Octa-core chipset instead of a quad-core model. This effectively casts doubt over the presence of a Snapdragon 820/821 processor on board because both chips are quad-core chips. Since this is the Korean model, it is possible this is an Exynos-powered model 2hile the SNapdragon version will hit the global market. Apart from these few things, the Galaxy Note Fan Edition and Galaxy Note 7 seems to be the same device in design and the internals. Check out the teardown photos from below.
(source)