New Image of SHARP Bezel-less Phone Leaks, Doesn't Look Like The Essential & Comes With Snapdragon 630
by Habeeb Onawole Jul 17, 2017 4:15 pm2
Last week, Sharp's General Manager of mobile phone business unit in China posted a photo of the manufacturer's yet-to-be released bezel-less smartphone. Apart from the device itself sharing similarities to the Essential PH-1, the entire image is also strikingly similar to the very first image of the Essential phone released to the public. A new image of the phone has surfaced and it wears an entirely different look.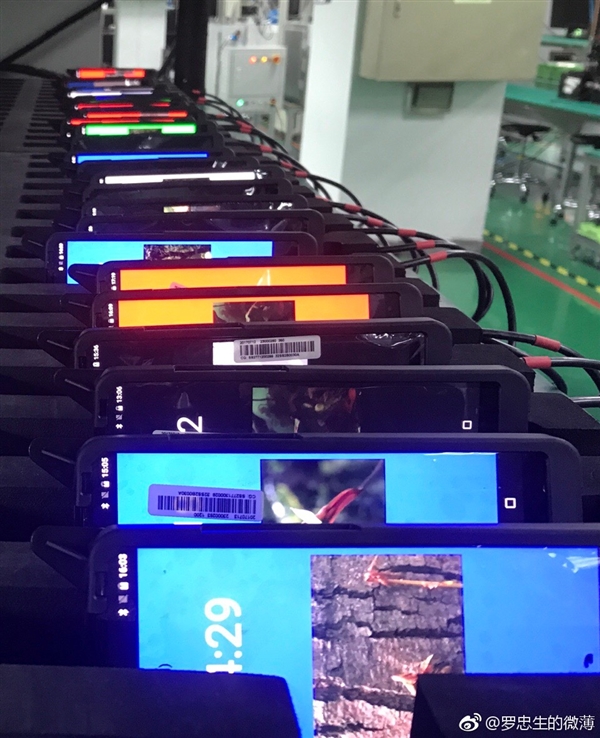 Posted by the Vice President of Foxconn Technology Group, Luo Zhongsheng, the image shows several units of the phone undergoing testing in the factory.
Unlike the first image which has a nearly bezel design and looks like the Essential PH-1, the new device has moderately-sized bezels. The top bezel is significantly smaller than what you will find on most phones. The thickness can even be compared to that of the Samsung Galaxy S8.
The side bezels are okay but we are concerned about the lower bezel. From the image, we can see Sharp is using on-screen buttons but there is a thick black bar at the base which is part of the screen. That is a waste of space and defeats the purpose of the on-screen buttons. If it is going to be there permanently, why then is the lower bezel that thick?
READ MORE: Sharp FS8016's Back Panel with Dual Rear Cameras in Multiple Colors Allegedly Appears
We can't tell if the phone has its fingerprint scanner in front or at the back, so we won't pass a final judgement on the design.
The phone is also reported to come with a Snapdragon 630 and not a Snapdragon 660 processor. Release date is still unknown.
(Source)