Alleged Exynos 9610-Powered Samsung Model Spotted On GFXBench
Samsung is very much focused on the mid-range segment in addition to its flagship Galaxy S and Note series. The company was recently rumoured as working on a mid-range Exynos 9610 processor which would take on the Snapdragon 660 chip. The Samsung Galaxy A-series is tipped to feature the chip first.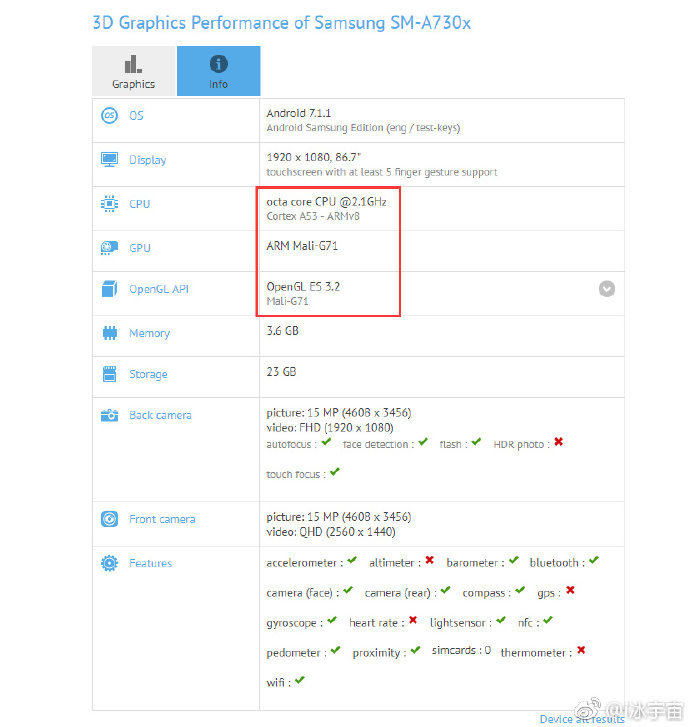 Right now, a GFXBench test result screenshot alleged to be that of the Exynos 9610 chip has leaked via Weibo. The benchmark result is listed for a Samsung device with model number SM-A730x which is believed to be the Galaxy A7 (2018). The device is listed to feature a 2.1GHz processor with Cortex-A53 core and Mali-G71 GPU which is consistent with those of the Exynos 9610, well except the GPU. Configuration wise, the Exynos 9610  is said to be manufactured using the 14nm LPP process and integrates the entire network baseband. The chip is made up of four Cortex -A73 cores and eight Cortex-A53 cores. The Exynos 9610 is also said to feature a Mali-G72 MP3 GPU which looks like a Nvidia GPU.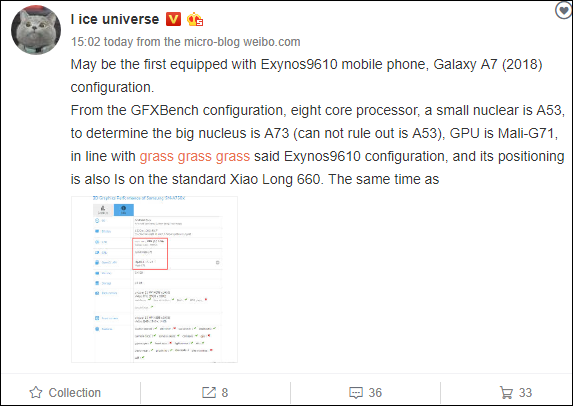 Read More: Exynos 9610 Chip Details Leak: 14nm Process, Q4 2017 Release
The smartphone on which it is featured, that is the SM-A730x model comes with Android 7.1.1 Nougat with a Full HD display resolution. The device also packs 4GB of RAm and 32Gb of storage as well as 16MP cameras both at the front and rear. We really can't be certain if this is the Exynos 9610 so, we'll still have to wait for more details on it.