Xiaomi May Dethrone Samsung in Indian Smartphone Market; Vivo & OPPO Also Growing Rapidly
by Anvinraj Valiyathara Jul 27, 2017 4:39 am0
A market research conducted by in the previous month by Morgan Stanley revealed that India will overtake the U.S. in 2018 to become the second largest smartphone market by units in the world. Hence, India is a very important market for smartphone OEMs. A market analysis conducted by Canalys reveals that the Indian market is ruled by Samsung and Chinese smartphone brands.
Canalys has revealed the second quarter (April to June) smartphone market share in India for this year. In comparison to the second quarter of 2016, the year-over-year shipments have declined by 4 percent. The company claims that the Indian market is contracting as less than 27 million smartphones were sold in the second quarter of 2017 in India.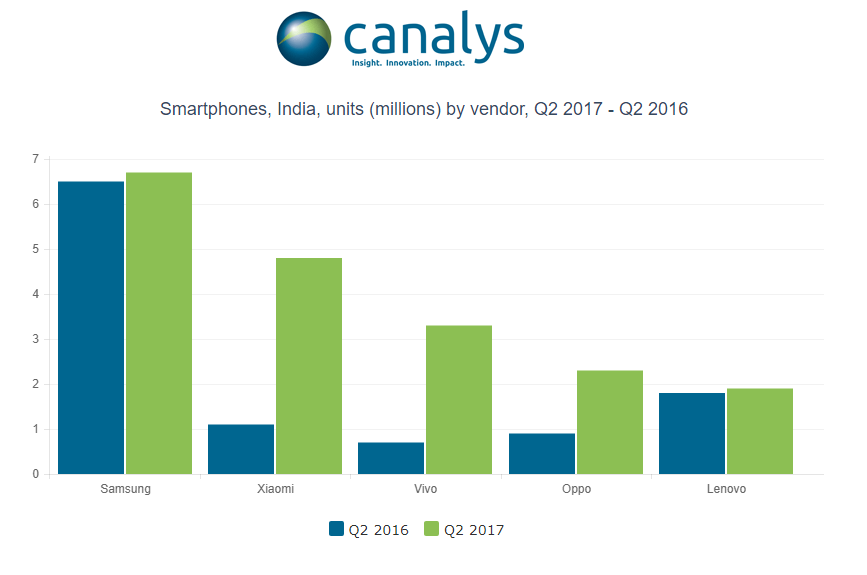 Read More: Apple May Soon Get Delisted from China's Top 5 Smartphone Brands
Samsung is leading the Indian smartphone market with 25 percent share. However, the above graph shows that Xiaomi is a major threat for Samsung as the Chinese firm shipped with 4.8 million smartphones which is four times more than the units it had shipped in the same quarter in the previous year.
Vivo and OPPO are the two Chinese smartphone brands that are rapidly increasing their smartphone market share in the country. Both the companies have been aggressively marketing their products offline. Vivo which is now in the third position had shipped with 3.4 million smartphones in Q2 this year. OPPO moved on to fourth position by taking over Lenovo that is now sitting on the fifth with 1.9 million smartphone shipments in Q2.
Samsung's numero uno is under threat as Chinese brands like Xiaomi, Vivo, OPPO, Lenovo and Gionee account for 50 percent of smartphone sales in India. These Chinese smartphone brands are very popular for their mid-range and entry-level smartphones in India. Samsung's J series smartphones are also quite popular in the country, but there is stiff competition for these phones by smartphones from aforementioned Chinese companies.
Samsung's premium phones Galaxy S8 and Galaxy S8+ are doing very well in India but it has to put more efforts to make sure that its mid-range phones are desirable. The Chinese smartphone market encountered a decline this quarter. Hence, the Chinese smartphone vendors are focusing more on the Indian market.
According to Morgan Stanley's report, India's smartphone market is expected to bloom at a compounded annual growth rate (CAGR) of 23 percent in the coming year. In the same period, China is estimated to meet a 5 percent CAGR in units. India's smartphone market is forecasted to grow five times faster than the world's largest smartphone market, China.
(source)