Unknown Sony Xperia ZG Compact with Snapdragon 810 Spotted On Geekbench
Sony Xperia XZ1 and XZ1 Compact are the upcoming models from the Japanese phone maker which are currently making appearances in benchmarks and leaks. Both models, have in recent times hit Geekbench as well as AnTuTu and are rumoured to launch on August 31 on the eve of IFA 2017 in Berlin. What we may not have known yet is that Sony is likely having another mode in the works which goes by the name Xperia ZG Compact as the model was spotted on Geekbench's database of recent.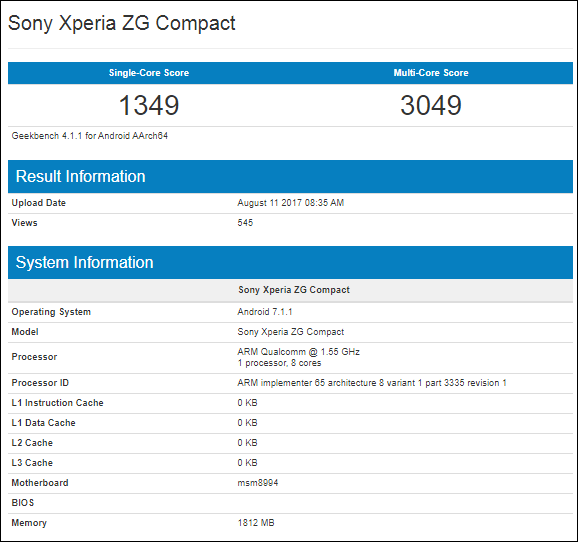 The Sony Xperia ZG Compact is listed to have a Qualcomm Snapdragon 810 chipset which the Z5 Compact launched with in 2015 and this one has a slightly higher performance than the Xperia Z5 Compact. The two models have a slight difference in their RAM sizes with the Geekbench listing showing a 1812 MB RAM for the ZG Compact and a 1764 MB RAM for the Z5 Compact when it was benchmarked. On the motherboard field, the ZG Compact's processor is listed as MSM8994 which is the Qualcomm Snapdragon 810 chip. The Sony Xperia Z5 Compact also used same chip but don't be surprised its own motherboard is listed as E5823. That is just the model number of one of the three models the device was available in.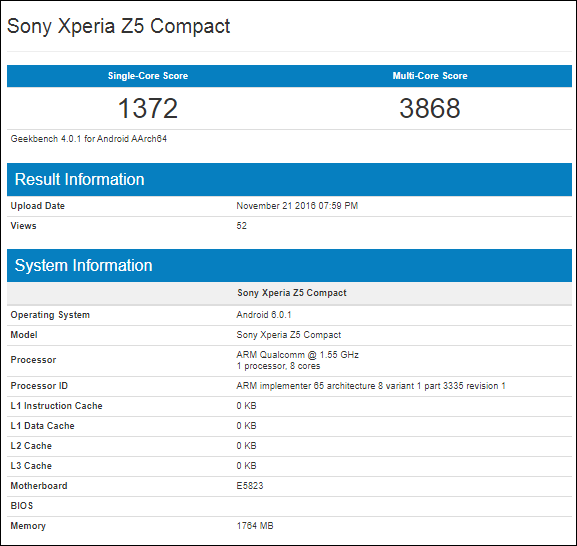 Read More: Sony Xperia XZ1, XZ1 Compact Pricing, Color Variants Allegedly Appear on Retailer Site
In addition, the Sony Xperia ZG Compact is listed as running Android 7.1.1 Nougat and that is where it all ends. However, we are not sure if this benchmark result is real or if someone playing a prank by fiddling with the software so that it reports the model as ZG. We can't say for sure but one wonders why would Sony want to use a Snapdragon 810 chip in 2017. Perhaps, that nails this as fake.
(source)