ASUS Officially Announces The Zenfone 4 Series & ZenUI 4.0
by Habeeb Onawole Aug 17, 2017 11:46 am3
It has been a long wait and ASUS has finally taken the wraps of its Zenfone 4 series. If you know ASUS, you should know that they love releasing multiple variants of their phones. This year is no different as there are 6 different variants of the Zenfone 4.
ASUS not only released new phones, it also announced ZenUI 4.0, the latest iteration of its own custom version of Android.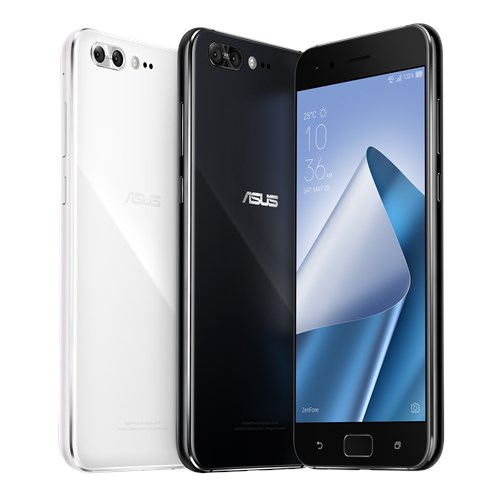 ASUS Zenfone 4 Pro
The Zenfone 4 Pro is the leader of the pack. It is ASUS' flagship of the year and we are happy it doesn't disappoint.
The phone like most flagships has a metal and glass design. There is 2.5D glass on the front and back and a metal frame in-between. ASUS is still in the bezel business so expect it to be bigger than the LG G6 and Samsung  Galaxy S8.
The Zenfone 4 Pro packs a 5.5-inch Full HD AMOLED with ASUS' Tru2Life technology. It is powered by the Snapdragon 835 and packs 6GB of LPDDR4X RAM. Built-in storage is 64GB with the option for expansion via a microSD card slot (2TB max).
ASUS will probably get the award for the flagship with the largest battery as the Zenfone 4 Pro has a 3600mAh battery. It is also just 7.6mm thick. There is NFC and a fingerprint scanner buried under the rectangular home button. You also get an audio jack positioned at the bottom of the phone, a USB type-C port , dual speakers and a FM Radio.
The Zenfone 4 Pro has Bluetooth 5.0,WiFi a/b/g/n/ac and GPS. There will be a Taiwanese/global variant, a North American/UK variant and a Japanese/Indian variant with varying band support.
It will run Android 7.1.1 Nougat out of the box.
Zenfone 4 Pro Cameras
The theme for ASUS this year is photography and it resonates across all its Zenfone 4 lineup.
The Zenfone 4 Pro features dual rear cameras. The sensors are one 12MP Sony IMX362 with a f/1.7 aperture, a 1.4um pixel size and 8x zoom in low light. It is paired with a 16MP Sony IMX351 with 2X optical zoom effect (25mm and 50mm focal lengths). Both
The large aperture of the main camera isn't the only cool thing about it. ASUS says it has a triple focus system. In addition to the original contrast focus, there is laser focus and a dual-pixel phase detection autofocus that works in conjunction with the four-axis OIS and three-axis EIS and an RGB light sensor for better images. The front camera is an 8MP sensor.
ASUS camera software, PixelMaster has been bumped to 4.0 and brings features like time lapse with power saving, slow motion, and ultra-high resolution images up to 48MP.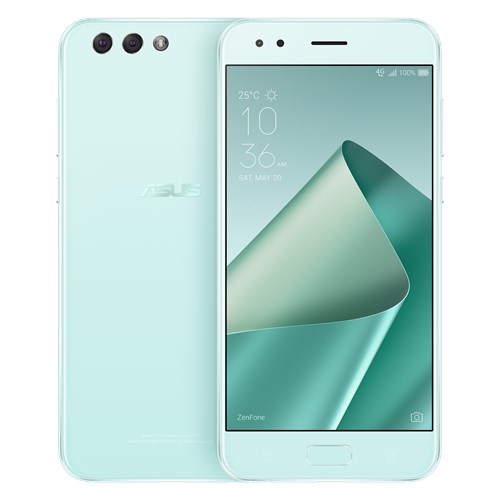 Zenfone 4
The Zenfone 4 (ZE554KL) is the mid-range phone in the line-up. It comes in two versions. One has 4GB of RAM, 64GB of storage and is powered by the Snapdragon 630 while the other has 6GB of RAM and the Snapdragon 660 mobile platform.
Both versions have a 5.5-inch FHD Super IPS display with 600 nits of brightness. It has a dual-SIM hybrid slot with support for up to 256GB microSD cards. There is NFC, a front mounted fingerprint scanner and a 3300mAh battery.
The Zenfone 4 also uses a metal and glass design but the rear 2.5D glass has the concentric circle design ASUS is known for. It will be available in black, moonlight, and green. Do note that the green variant doesn't have the concentric circle design.
Zenfone 4 Camera
The Zenfone 4 has dual rear cameras just like the Pro. It even has the same Sony IMX362 sensor but with a f/1.8 aperture and a 1.4μm pixel size. The second camera is an OmniVision 8856 8MP wide-angle camera with a 12mm focal length and a 120° viewing angle. The secondary camera has a f/2.2 aperture and a 1.12μm pixel size.
There is OIS, EIS and a built-in RGB sensor inside the main camera. The front camera is an 8MP sensor with an 84° viewing angle and a f/2.0 aperture.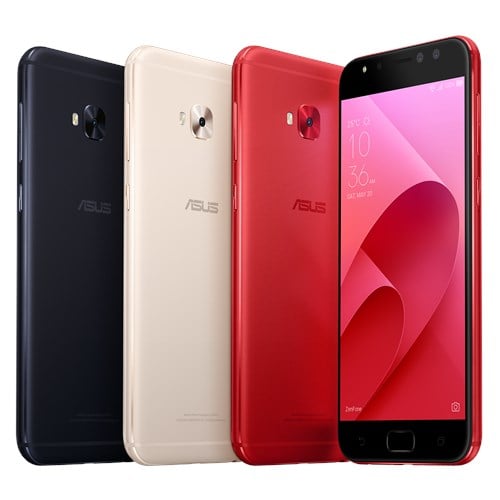 Zenfone 4 Selfie and Zenfone 4 Selfie Pro
ASUS launched the first Zenfone Selfie in 2015 but didn't follow it up with a successor last year. This year it is releasing two variants
The Zenfone 4 Selfie Pro (ZD552KL) has a 5.5-inch FHD AMOLED display with 500 nits of brightness. It is powered by the Snapdragon 652 paired with 4GB of RAM and 64GB ROM. It has a 3000mAh battery, support for dual SIM and a front-mounted fingerprint scanner.
Unlike the Zenfone 4 Pro and Zenfone 4 which have dual rear cameras, the Seflie has a single rear camera but dual cameras up front.
The Zenfone 4 Selfie Pro has a 12MP Sony IMX362 with a f/1.8 aperture and a 5MP OmniVision 5670 sensor with a 120° viewing angle in front. There is also a front self-timer flash and support for 4K video recording.
The rear camera is a 16MP Sony IMX351 with a f/2.2 aperture, PDAF and EIS for video recording.
The Zenfone 4 Selfie has the same screen size but with a HD resolution. The processor of choice is the Snapdragon 430 but with 4GB RAM and 64GB of storage. The front cameras are a 20MP OmniVision 20880 paired with an 8MP Omnivison 8856. On the rear sits a 16MP OV16880 sensor. Another difference it has from the Pro version is a dedicated microSD card slot.
 Zenfone 4 Max Pro
ASUS already released a Zenfone 4 Max about a month ago but Taiwan will be getting a slightly different version and with the Pro suffix.
The display is still 5.5-inches with a HD resolution but it will be powered by the Snapdragon 425 paired with 3GB of RAM and 32GB of storage.
Unlike the Zenfone Max which has dual 13MP cameras, the Max Pro will have a 16MP camera paired with a 5MP wide-angle sensor. The front camera is a 16MP sensor instead of 8MP on the Max. Under the hood is a 5000mAh battery.
ZenUI 4.0
ZenUi brings a number of upgrades. There is the wallpaper carousel that changes the wallpaper based on the time of the day. There is also an AI system that categorizes your gallery based on the faces in the pictures.
ZenUI 4.0 also comes with a built-in security system that sends your location to friends and family when you are in danger. ASUS has also included support for dual apps in ZenUI 4.0.now you can run dual Facebook, Instagram,and messenger accounts.
Another new feature is called Page Marker. This works like Pocket, letting you save pages offline for future reading. You can also use it to mark where you stopped reading an article so you can continue reading from there on your other devices.
Pricing and Availabity
The Zenfone 4 Pro will sell for $599 and will be available in Black and Silver.
The Zenfone 4 will start at $399. There is no info on the price of the other variant.
The Zenfone 4 Selfie Pro will be priced at $379 and the Zenfone 4 Selfie will retail for $279.
Pricing detail for the Zenfone 4 Max Pro is unavailable.