Grab Your Oreo Or Oatmeal Cookies For The Android O Launch Tomorrow
by Habeeb Onawole Aug 20, 2017 10:54 am0
Google has confirmed that it will officially unveil the latest version of its OS tomorrow. Still called Android O for now, an official countdown page has been setup.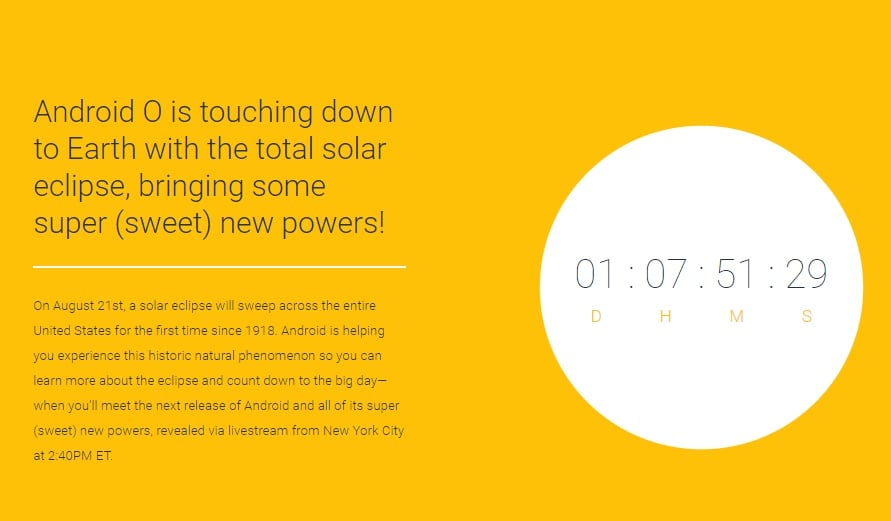 The countdown page reveals that the launch which will hold in New York can be live-streamed at 2:40 PM EST (6:40PM GMT). The Android O page also has a link to livestream the solar eclipse set to occur tomorrow.
Eligible Devices
Android O will have version version number 8.0 and will roll out to devices starting tomorrow, beginning with the Pixel and Pixel XL. Eligible Nexus devices will follow suit.
For non-Google devices, there have been a number of announcements from manufacturers. Below is a short list of the devices that are confirmed to get the Android O update:
OnePlus: OnePlus 3, OnePlus 3T, and OnePlus 5
Nokia: Nokia 3, Nokia 5, Nokia 6, and Nokia 8
ASUS: Zenfone 3 and Zenfone 4 smartphones
Samsung: S8, S8+, S7, S7 Edge, A series (2017), A Series (2016) to name a few.
What's it going to be called?
With respect to the name, most people want it to be called Android Oreo just like the popular chocolate cookie. Popular leaker, Evan Blass tweeted an image of an Oreo Cookie yesterday hinting at the name being Oreo.
Be honest with me: I should have rotated it 90 degrees CCW, huh? pic.twitter.com/bqfhxMwhyC

— Evan Blass (@evleaks) August 19, 2017
Another treat that seems to be a strong contender for the name is Oatmeal Cookie. The line "oc-dev" was seen back in June in the code for the OS by tech website Myce. The belief is that the alphabets OC is short for Oatmeal Cookie.
#AndroidO? 8.O, O, O, O, O, O, O or O… 🤔 pic.twitter.com/YvzhCk2DJv

— Hiroshi Lockheimer (@lockheimer) August 19, 2017
Senior Vice-President of Platforms and Ecosystems at Google, Hiroshi Lockheimer also shared a screenshot of his Google Drive account that shows a bunch of names for Android O. Some of these names are treats while others are just random words that begin with the alphabet.
Features of Android O
Android O is expected to come with a bunch of new features. The major ones are picture-in-picture video which lets you watch videos while working with other apps; adaptive icons; notification dots which are just like notification badges on app icons; and new circular emojis that replace the blob-faced ones.