Xiaomi Mi Mix 2 Back Shell Leaks, Metal Or Ceramic?
Just last week Xiaomi Mi Mix designer Philippe Starck thrilled us with a concept video of the Mi Mix 2. The video proved to be a very popular one, amassing over 115k views especially due to its full-screen design which is touted to have even lesser bezels than the Mi Mix. Since then more leaks of the device has been making the rounds but leaked photos have been lacking. But now, the rear cover of the Mi Mix 2 has leaked purportedly from the supply chain.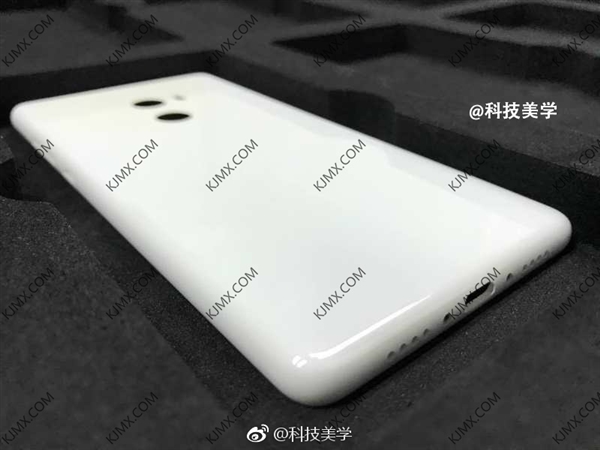 There is no way for us to verify if the casing is actually for the Mi Mix 2 but it indeed looks like one for a phablet device and the design resembles the Mi Mix's rear cover with two vertical openings another for an LED flash at the side of the first opening. If the Mi Mix 2 will be featuring a dual camera setup which is the rave of the moment, then there isn't room for a rear fingerprint sensor which suggests the use of a front in-display fingerprint sensor or the 3D face recognition technology Xiaomi is rumoured to be developing for use on its flagships. But these are just openings, so we cannot determine if it is going to house a camera and fingerprint sensor or dual cameras.
The cover is coloured in white and the glossy look makes it look like it has a ceramic body. But the two screw ports by the side of the USB Type-C port suggest this could be having a metal body since the Mi Mx doesn't have such screws. There is a rumour already that the Mix 2 will be ditching the use of ceramics which usually slow down the mass production process.
Read More: Xiaomi Mi MIX 2 Design Revealed By Mi MIX Designer Phillippe Starck
As for the specs, the Mi Mix 2 is expected to feature a 6-inch JDI display with a Snapdragon 835 processor onboard. The device is said to feature a 12MP Sony IMX386 sensor at the rear which should be more powerful than the not-so-inspiring 16MP OV16880 sensor on the Mi Mix. The Mix 2 will, however, feature a 5MP OV5675 sensor for selfies and a 3,400mAh battery. The flagship is expected to be launched on September 12 but no word from Xiaomi on that just yet.
(source)