Qualcomm Confirms Snapdragon 835 Inside The Mi Mix 2
Xiaomi has already officially revealed that its flagship Mi Mix 2 will be launched on September 11 which is barely a week away. Between now and the launch event, we expect to see a lot of juicy details concerning the flagship model and already so have started streaming in. The sleek box casing for the Mix 2 was spotted not too long ago and now, Qualcomm China has officially confirmed that the Mi Mix 2 will feature a Snapdragon 835 processor.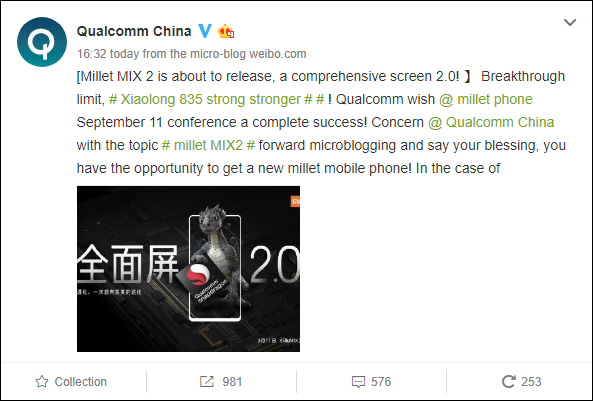 It is already a regular in leaks and rumors that the Mi Mix 2 will utilize a Snapdragon 835 processor but this goes to confirm that indeed Qualcomm's latest chip would be found on board the Mix 2. Apart from confirming the chipset, the Weibo post also teases the Mix 2 as coming with full-screen 2.0. Until Xiaomi unveils the device we can't fully comprehend what that means but we sure do expect the Mix 2 to take the bezel-less full display technology used on the Mi Mix to a different level.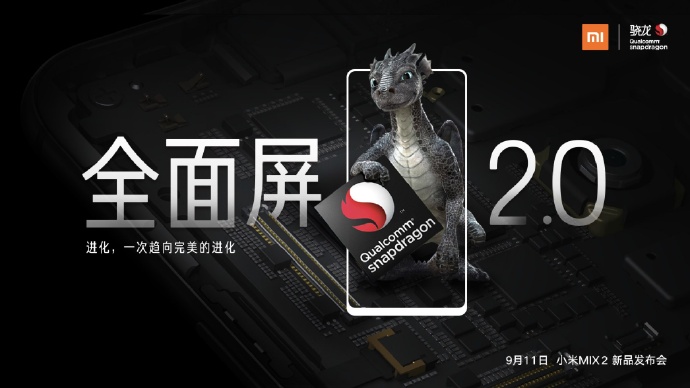 Read More: Xiaomi Mi Mix 2 Specs Leaked Revealing Snapdragon 836, Android 8.0 & More
The Mi Mix 2 is tipped as coming with an 18:9 screen-to-body ratio, a front fingerprint sensor, piezoelectric ceramic audio technology, dual cameras and more. The device will also likely have a 6GB RAM + 64GB storage on its base model with a retail price of 3999 (around $612) while the higher variant may likely cost 4,999 Yuan (~$765). Recall also that the iPhone 8 will be launched on September 12 and no doubt, will hit China before the end of the year. Do you think the Mi Mix 2 will be a worthy alternative to the iPhone 8 considering it will come in cheaper?
(source)