Apple Rules in Market Share in China as Samsung Slips to Sixth Position
by Anvinraj Valiyathara Sep 8, 2017 8:22 am1
Samsung has been consistently losing market share in China. A new market survey has revealed that the South Korean company market share has dropped to such an extent it is on the sixth position in the list of top smartphone brands in China. The market trend in the country shows that customers prefer buying cheaper smartphones from local brands.
According to the Korea International Trade Association (KITA), Samsung has sold 48 million smartphones by the second quarter of this year. Apple is holding the first position with shipments of 171 million iPhones by Q2 2017.
The positions from second through fifth are occupied by smartphone OEMs from China. Huawei is sitting on the second place with shipments of 132 million units. The third position belongs to OPPO with a market share of 124 million units in the same quarter. Vivo and Xiaomi are respectively on the fourth and fifth position with market share of 108 and 68 million units in Q2 2017.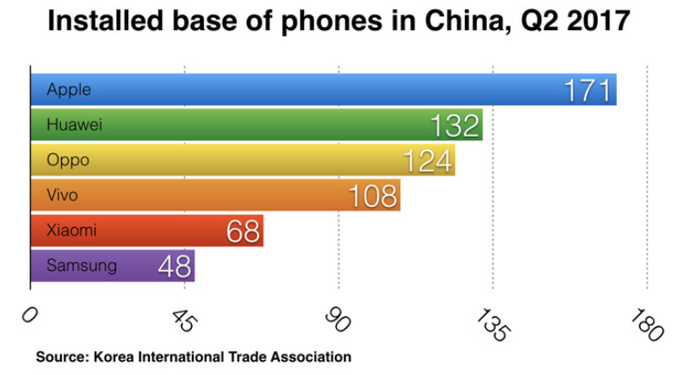 Read More: Report: Samsung to Charge Apple $120 Per OLED Display Panel for New iPhones
It has been found that around 63 percent smartphones that have been sold in China in the same quarter are low or mid-range devices that are priced less than 2,999 Yuan (~$305). Only 6.4 percent smartphone users in China invested in buying a 4,000 Yuan or higher premium phones, out of which Apple accounted for an absolute majority.
The market survey has also revealed that 50 percent of OPPO phones are bought by youth aging between 16 and 25 in China. However, only 25 percent users of OPPO and Vivo phones have said that they are interested in buying phones from the same brand again. Apple iPhone owners seem to be satisfied with their smartphones as 53.4 percent of its users that would an iPhone again. Buyers of Samsung phones seem to be disappointed as only 7.2 percent its users in China have shown interest in choosing the same brand again for their next smartphone.
Since the launch of iPhone 6, Samsung has failed to compete with iPhones with its Galaxy S or Note series phones. Since then, Samsung has stopped rivaling Apple as the latter has become a customer of the South Korean company for items like displays, chipsets and memory units. Despite poor track record in China since a couple of years, Samsung still holds the numero uno position in the second quarter 2017 across the world.