Meizu's Li Nan Reveals Bezel-less Phone Will Meet With Us Next Year
The smartphone industry is presently witnessing a proliferation of bezel-less full-screen phones and it is a trend that has caught up with almost all major OEMs in the industry. Those that are yet to get on the train are either about to launch their's or are still working on their own models. Meizu seems to be one of those still working on its bezel-less smartphone. The idea of a Meizu phone has been in the news for a while now and very recently, a bezel-less Meizu mBlu Zero was spotted online only revealing a part of the bezel-less display.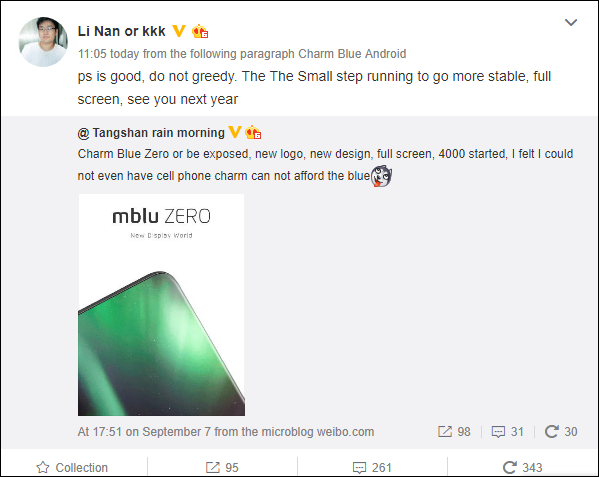 The Meizu mBlu Zero looks like a device from the Blue Charm product line which has been repositioned and has the premium M6 Note as its first model after the restructuring of the entire Meizu brand. The name very well suggests the device will be in the Blue Charm line and so, it wasn't very surprising when Meizu's Li Nan responded to the rumored mBlu device.
Read Also: Meizu Rumoured As Working On A Bezel-Less Phone Code-named Ocean
For the avoidance of doubt, Li Nan is the President of the Meizu Blue Charm division and he did confirm that they are working on a full-screen phone and it would be released next year. This is coming as an interesting piece of information because Meizu has repeatedly denied they were working on a full-screen phone when the rumor first emerged.
(source)