Apple Introduces Mail Service for Trading Old iPhone for Upcoming iPhone X, 8 and 8 Plus
by Anvinraj Valiyathara Sep 12, 2017 5:18 am0
In order to encourage iPhone users to use the latest iPhones, Apple had introduced an iPhone Upgrade Program in 2015 by trading in their old handset. On Tuesday, the company will be launching the 2017 iPhones. A new service of trading old iPhones by mail has been spotted in the iPhone Upgrade Program.
Apple has provided only one way to trade outdated iPhone for a new one by visiting an Apple Store. Two years after introducing the iPhone Upgrade Program, Apple is now offering a more convenient option of trading iPhones by mail. The new option is now listed in the iPhone Upgrade Program and it was first spotted by a forum member of Mac Rumors. It appears that the service is currently available only in the U.S.
In order trade in by mail, users need to ask Apple to provide them with a "trade-in kit" in which users can place their old iPhones and send it to the company by mail. As of this writing, there is no information available on the contents on the trade-in kit.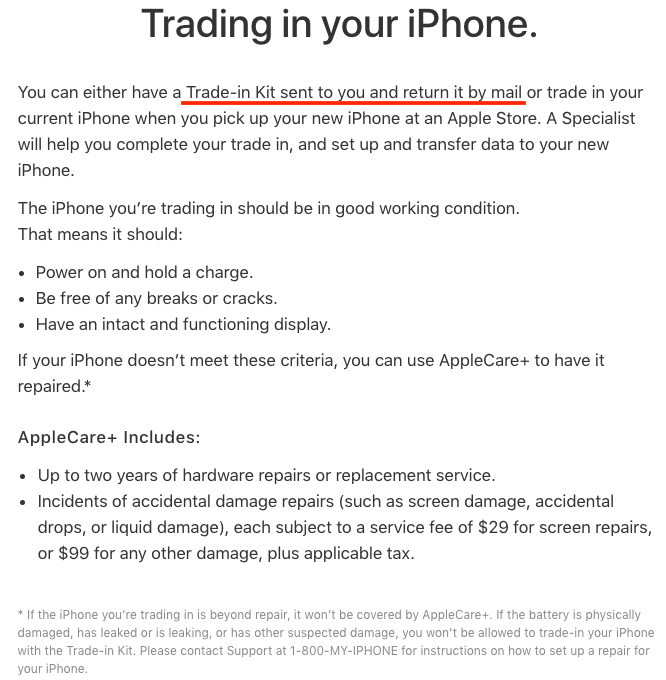 The description of the new trading option states that once a new iPhone is shipped to the user, Apple will provide users with a trade-in kit. According to Apple Insider, the new way of trading iPhones may have existed on the Apple's site at least since July or earlier, but the option was unavailable before the launch of iPhone 7.
Because of in-store trade-in requirements, many users who opted for iPhone Upgrade Program in the previous year had to reserve a new iPhone from a local Apple store and they were provided with limited stock of iPhones to choose from. Since the many customers were annoyed because of it, Apple may have introduced another option of trading iPhone through mail.

Read More: Apple iPhone X, 8 and 8 Plus Rumor Roundup, Launch Event & Livestream Details
Like the requirements of an in-store trading of iPhone, users are required to trade only those iPhones by mail that do not have any cracks or breaks, have a working display, turns on and charges properly.
Apple's new iPhone launch event will begin at 1 PM ET on Sept. 12. Apart from the heavily anticipated iPhone X and iPhone 8 and 8 Plus smartphones, the Cupertino company is also rumored to showcase an LTE enabled Apple Watch and a 4K Apple TV.