Galaxy Note FE May Launch In Malaysia Soon
by Habeeb Onawole Oct 11, 2017 2:33 pm0
Following the recall of the ill-fated Galaxy Note7, Samsung relaunched the phone in July with a smaller battery and under a new name – the Galaxy Note FE. The Galaxy Note FE's release has been limited to Samsung's home country but report says it could be making its way to Malaysia soon.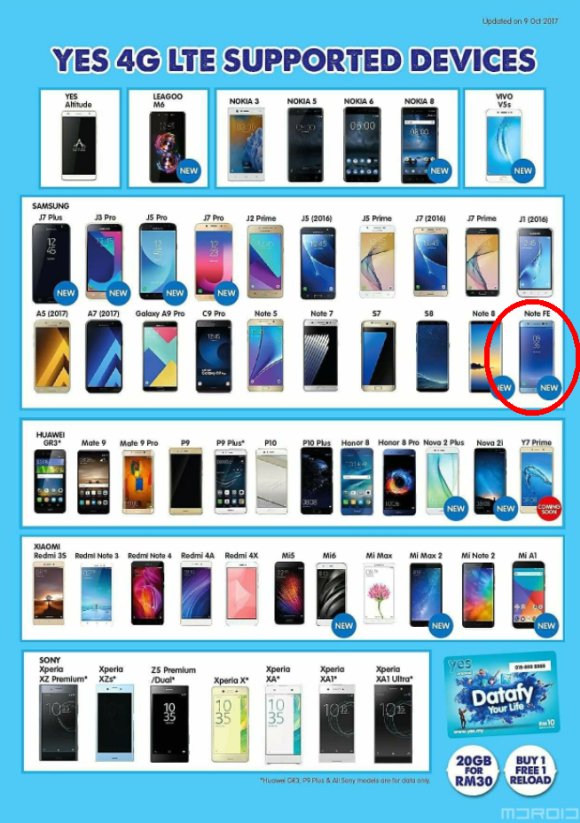 Proof of a possible launch is an image that lists the supported 4G LTE devices of Malaysian network operator, YES. Underneath the section that has Samsung devices is the Galaxy Note8 and the Galaxy Note FE with a "NEW" text bubble on both devices indicating that they were just added. It is also important to note that YES only lists devices sold in the country.
Samsung has not yet announced when the launch will be, but it should be around the corner. Prospective buyers may also want to take note of stock being limited seeing as how quickly it went out of stock in its home country.
The main difference between the Galaxy Note FE and the Galaxy Note7 is the battery, since that was what caused it to be recalled in the first place. The 3,500mAh battery has been replaced with a smaller 3,200mAh battery.
READ MORE: Samsung Galaxy A5 (2018) Likely to Launch in SD 660 and Exynos 7885 Variants?
There are some other small changes too like the branding on the back, the software, and the new Bixby AI assistant. Asides those, every other thing is the same as that of the Note7. For those that can't afford the Galaxy Note8, the Note FE is a more than capable replacement. It does not have the dual cameras of its successor or its Infinity Display but you will be saving a few $100.
The Galaxy Note FE sold for KW 699,600 (~$620) in South Korea. That's about MR 2,610. Add import duties and tax and price may be close to MR 3,000.
(Via)