SJCAM SJ8 With Some Killer Features is Coming Soon!
You might forget about Go Pro Action cameras because of the Chinese manufacturer 'SJCAM'. The company continues to provide breathtaking sports/action cameras under a stupendous price tag. The legends include SJ 5000, SJ 5, and SJ 6 Legend. There's no denying that SJCAM is no rookie in the action cameras business. But recently, the company is going to do its best under one action camera known as 'SJCAM SJ8'. The camera will release next month, but for we have the incredible specs and rumored price to keep the anticipation going.
Let's get into the details and know the upcoming SJCAM SJ8 Action Camera: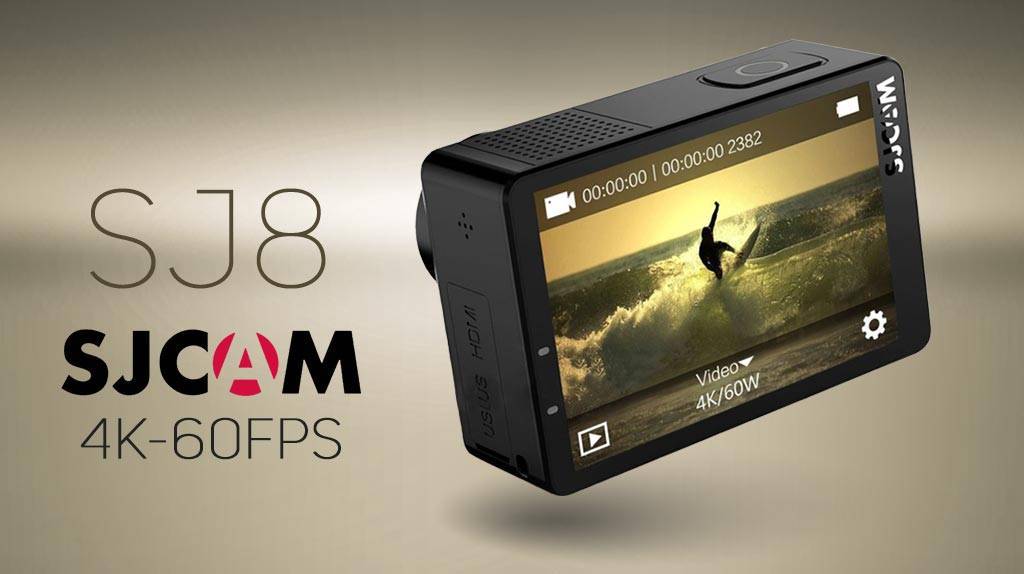 SJCAM SJ8 – The First Chinese Action Camera With 4K 60 fps on Dual Screens
SJCAM is going to target the new Xiaomi Mijia 4K Camera and upcoming Go Pro 6. You might think that it's not the first camera with 4K video recording at a maximum 60 fps. However, it's the first Chinese Action camera with dual screens to support 4K 60 fps video recording.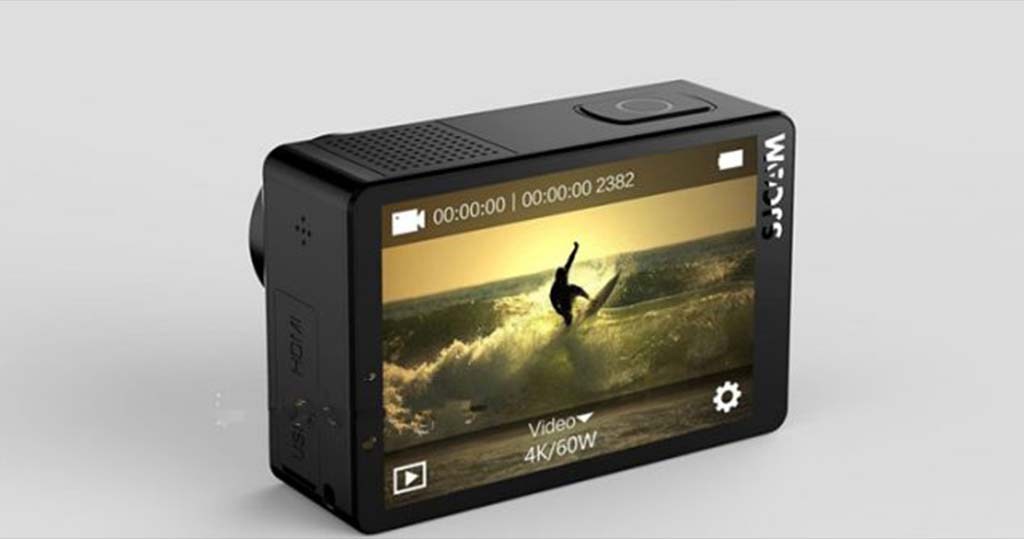 Weeks ago, we had the first leaked image of the camera exposed as well. From the leaked image mentioned above, SJ8 appears to be a typical rugged action camera with a stunning 2.33-inch, 360 x 640 touchscreen on the rear and a front 0.96-inch touchscreen. The dual screen appears to be similar to SJ6 Legend but SJ6 is limited to 4K recording at only 24 fps. The dual screen configuration is the selling point of the upcoming flagship apart from the 4K video recording.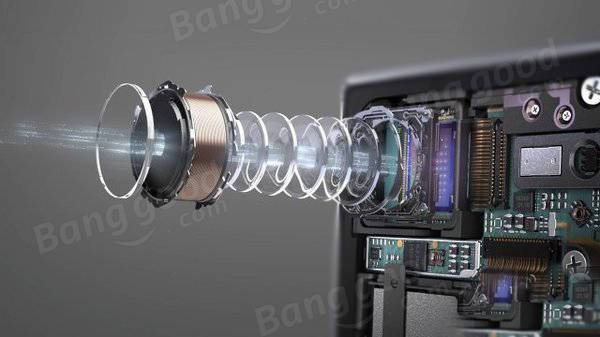 Furthermore, SJCAM SJ8 was also leaked on Gearbest as well. It's available in the Chinese Global store but the stock has not arrived yet. The details mentioned there are interesting as well. According to the specs provided on Gearbest, the camera occupies a space of only 7.00 x 4.00 x 3.00 cm and is super lightweight weighing only 70 grams. It appears to be a rubberized plastic built from the leaked image of the prototype. However, it will be a dream come true if the housing turns out to be aluminum metal with CNC process similar to iPhone 7. You know SJCAM is full of surprises and we might not know what's the big thing coming.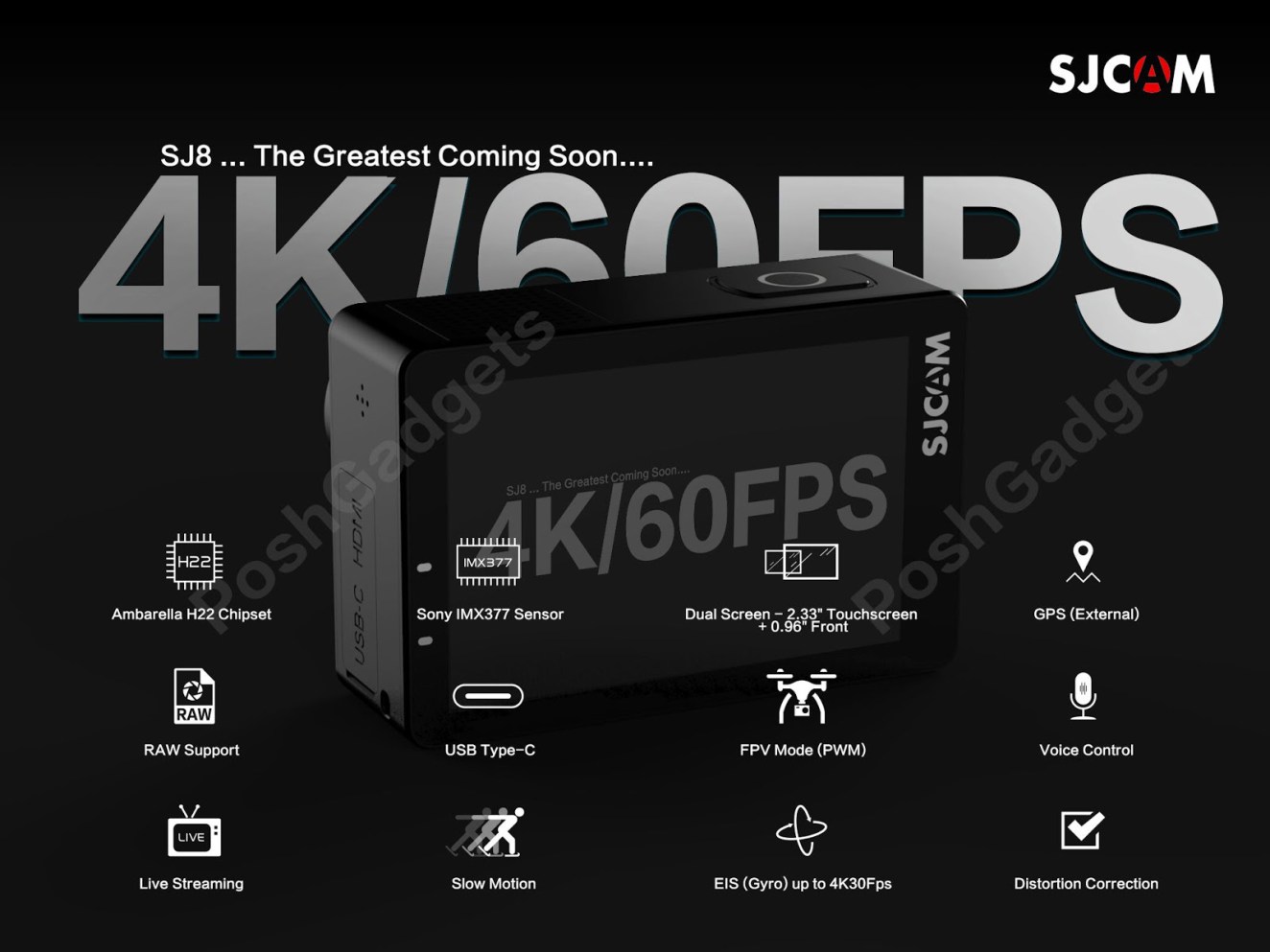 Moreover, the casing like rest of the SJCAM action cameras is IP68 certified, waterproof up to 30 meters. Gearbest confirms the presence of EIS (Electronic image stabilization) for a non-shaky video. Moreover, another highlight and a dream feature will be the first integration of GPS module under the hood of a Chinese sports camera. Even Gearbest mentions it along with WiFi module working in a range of 10 meters.
As it supports 4K video recording at 60 fps, the hardware indeed will be powerful. We expect it to feature the latest Ambarella H22 chipset coupled with a Sony Sensor (maybe IMX 377). A 1000mAh battery will power the camera. Surprisingly, Gearbest states that the battery life is 1 hour on 4K @60 fps, standby time is 3 hours, and charging time 2 hours via Type-C interface. Other features include:
FPV Mode
Live Streaming
Remote Control
Apart from these, we will love you witness the introduction of PiP (Picture-in-Picture) feature so it can act as a 'slave' back camera as a dashcam.
Specification Sheet
| | |
| --- | --- |
| Brand | SJCAM |
| Model | SJ8 |
| Chipset | Ambarella  H22 |
| Sensor | Sony |
| Screen | 2.33 inch |
| Screen resolution | 360 x 640 |
| Video format | MP4 |
| Video Resolution | 4K (3840 x 2160) 60FPS |
| Storage | Max External Card Supported: TF 128G (not included) |
| Battery | 1000mAh |
| Audio System | Built-in microphone/speaker (AAC) |
| Image Format | JPEG |
| Working Time | 1 Hour |
| Standby time | 3 hours |
| Charging Time | 2 hours |
| WiFi Distance | 10 meters |
| Waterproof Rating | IP68 |
| GPS | Yes |
| G-sensor | Yes |
| HDMI Output | Yes |
| Anti-shake | Yes |
| Interface Type | Micro HDMI, TF Card Slot, Type-C |
Price & Availability
There are some many expectations from the upcoming SJCAM SJ8. Let's see which might turn out to be true, next month. As far as the price tag is concerned, it's tagged at a shocking $439.08 on Gearbest. But that's the rumored price. Obviously, Gearbest will lower the price once the flagship releases. With all these features we expect it to be around $300 to $400 as a 4K @60 fps, Dual Screen Action camera.