OnePlus 5T Seen on GFXBench: 6" 18:9 Display & Up To 8GB of RAM
by Habeeb Onawole Nov 4, 2017 1:47 pm4
OnePlus has confirmed that there is indeed a OnePlus 5T coming. A blog post as to why they kept the audio jack was the official reveal. Another confirmation of the device's existence was on Weibo. The micro-blogging site is known to show the device used in posting. And on Thursday, a post by OnePlus co-founder Pete Lau, revealed the device in use was a OnePlus 5T.

Today, the OnePlus 5T has been seen on GFXBench and the benchmarking site reveals some specification details of the upcoming phone. The listing itself isn't on the official GFXBench site. We don't know if it was pulled down or if this is genuine, so we advice you take this with a pinch of salt.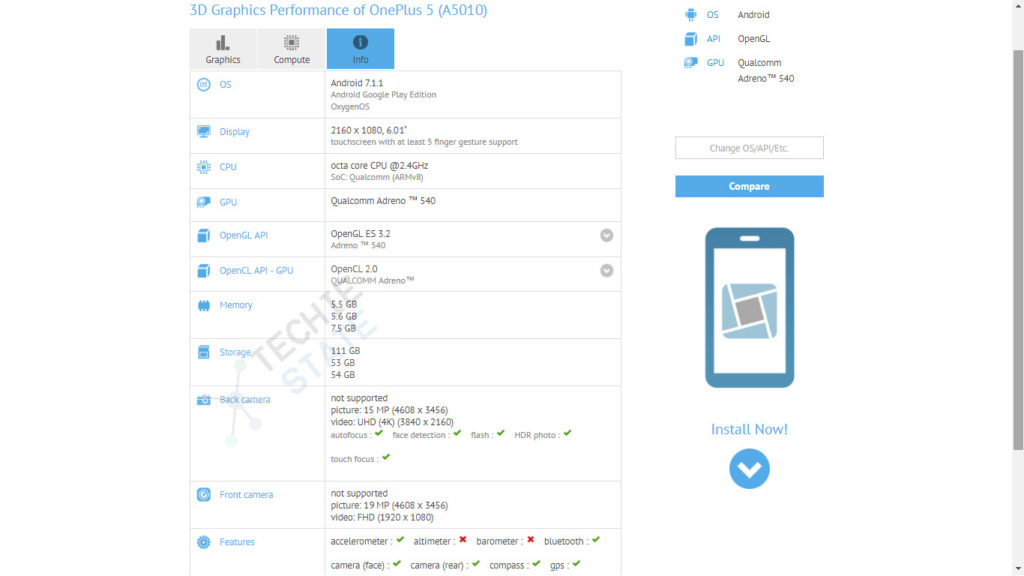 The OnePlus 5T is shown here running Android 7.1.1 Nougat and not Android 8.0 which is disappointing. We won't be surprised if that is what it actually comes with out of the box. We saw the same scenario play out last year with the OnePlus 3T. Android Nougat was already out but it came with Android Marshmallow out of the box. Weeks later, it got upgraded to Nougat and it is up for an update to Oreo – its last major update. Hence fulfilling the unwritten rule of at least two major OS updates.
We hope OnePlus doesn't pull the same trick with the OP5T. It will be disappointing as it is seen as a very lazy move.
The OnePlus 5T is shown as sporting a 6.01-inch display with a 2160 x 1080 resolution that translates into an 18:9 aspect ratio. The processor is the Snapdragon 835 with an Adreno 540 GPU, same as the OnePlus 5
For RAM and ROM, there will be a 6GB RAM model with 64GB ROM and an 8GB RAM model with 128GB of storage. Rear camera is listed as a 16MP sensor but we know it is a dual camera setup. The front camera has been bumped up from 16MP to 20MP.
There is no battery info, so we are still in the dark about that. However, if you have been waiting for wireless charging to come to the OnePlus, you will have to keep hoping. Pete Lau took to weibo to explain why they don't see it happening soon.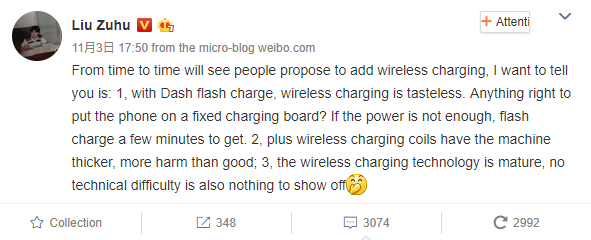 According to him, as long as there is Dash Charge there is no reason for wireless charging. Whichever one you use, your device still stays in one spot while charging. He also adds that the wireless charging coil make phones thicker, which apparently is not what they are aiming for.
READ MORE: Latest OxygenOS Open Beta Update Brings Android Oreo to OnePlus 3 and OnePlus 3T
There is no official release date for the OnePlus 5 yet but sources say November 16th looks like a possible date. Nevertheless, we believe it should arrive before the end of the month.