The Little Pepper S11 Brings The iPhone X's Design To Android
by Habeeb Onawole Nov 23, 2017 8:54 am0
Little Pepper is a Chinese brand that does know how to get people's attention by imitating popular designs. One of its phones, the Little Pepper V9, shares a striking resemblance to the Xiaomi Mi 6 but packs less specs. For its new phone, the S11, Little Pepper takes its inspiration from the iPhone X.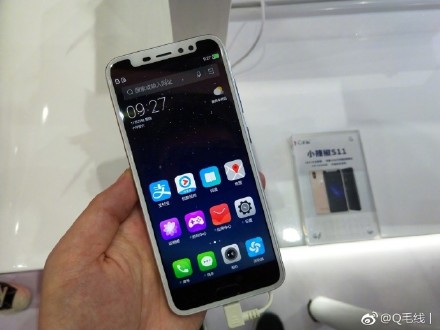 The first thing you will notice about the Little Pepper S11 at first look is the notch at the upper part of the display just like that of the iPhone X. However, upon looking closer, you'd realize Little pepper was "smart" about the display. Rather than the screen itself having a notch, it is the upper bezel that has the notch. So this is actually a regular 16:9 display.
The Little Pepper S11 also differs from the iPhone X by having a physical home button/fingerprint scanner below the screen.
The similarities between both phones continue at the back. The S11 packs dual cameras arranged in the same vertical arrangement but these are definitely not the same sensors.
Little Pepper finishes off the design with a shell that looks like glass but which is actually glossy plastic.
READ MORE: The Little Pepper V9 is a Xiaomi Mi 6 With A Mediatek Processor and a Larger Display
The specs and price of the phone are not known as it was spotted at a Chinese mobile conference. We also do not know when it will hit market shelves but we know that when it does, it will sell for a fraction of the iPhone X.
(Source)