What Does a Good Power Strip Look Like?
Everyone must have seen or used power strips at home or in office. Power strips are widely used to provide multiple charging outlets to power up various electronic devices at the same time. Power strip surge protectors in market vary in the number of charging outlets and different power strip types are also equipped with different special features. Before purchasing, you must want to choose a good power strip among so many models. But how can you evaluate whether it is good or not? A good power strip must stand out in charging speed, housing material, cable thickness, safety protections, inside circuit designs and other special features, and be the one that can really meet your needs.
Charging Stations – enough charging stations can meet all your needs
No enough wall charging sockets is the problem that many people who have an increasing number of electronic devices are facing with now. The power strip is such a device that can provide multiple charging outlets to allow you charge more than one devices simultaneously. There are also some power strips with USB ports for you to charge mobile devices like cellphones, tablets, cameras, etc. Enough charging stations can meet all your charging requirements. You can find USB power strips with 3 outlets, 4 outlets, 8 outlets and even 12 outlets as you like. Multi-outlets power strips are popular for home theater and office working to share power electricity.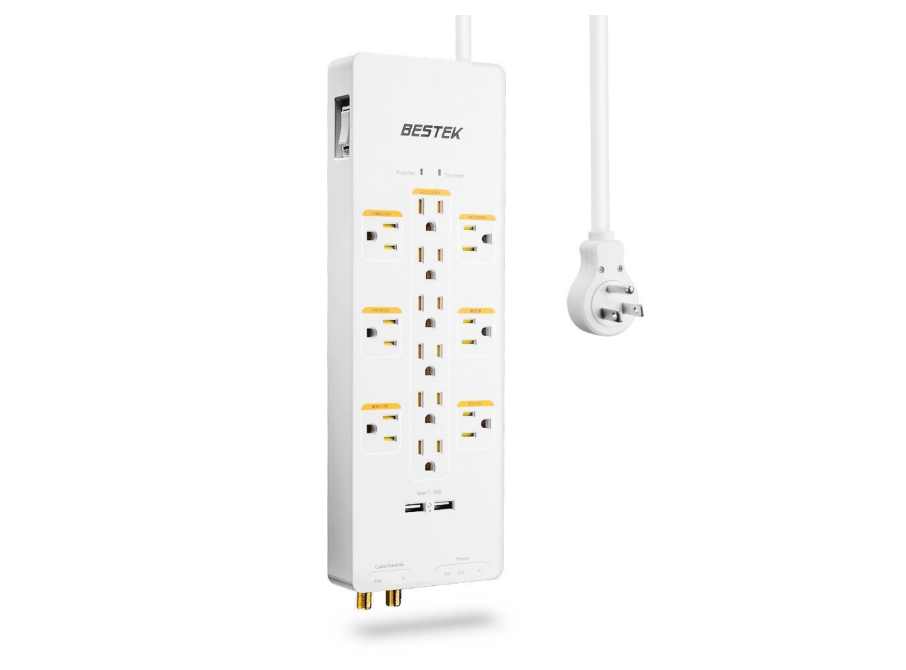 code:9AI27BDF
original price:$29.99
discount price:$22.99
Fast Charging Speed – charge devices faster and save electricity
As you know, it is not good to play some electronic devices like cell phones while it is being charged. So fast charging can reduce charging time to allow you continue entertainment quickly as well as to save more energy. Good conductivity can ensure AC outlets of a power strip to charge devices faster. BESTEK power strips are integrated designed with phosphor bronze inside to guarantee higher AC power conversion rate. As for USB ports, some are QC chargers with Qualcomm technology and some are intelligent identified with auto 0~2.4A current. The smart USB ports can detect each device and deliver the optimal current for each device. With a USB power strip, various device chargers can be reduced and packed away to reduce cable clutter.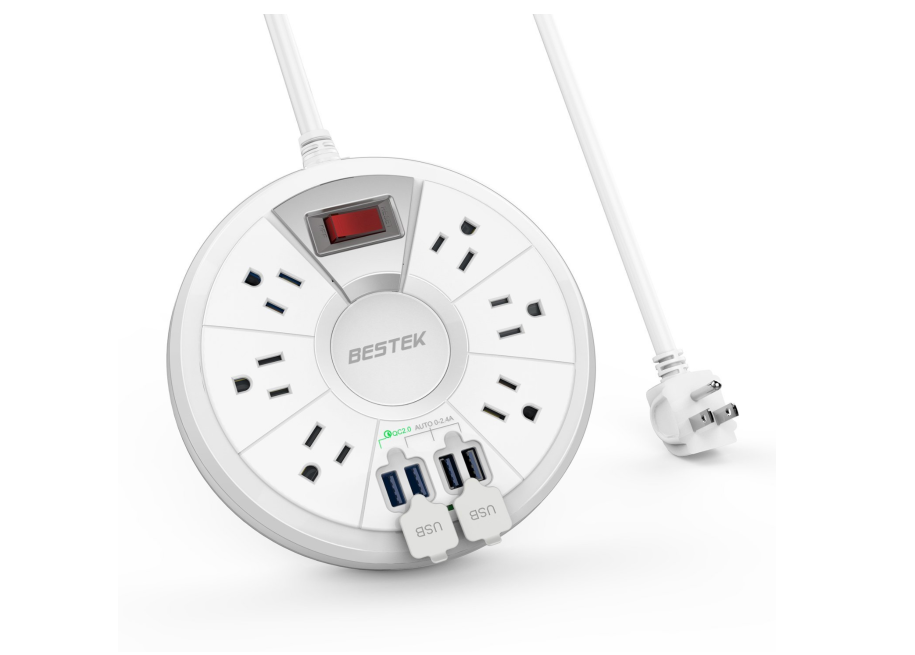 Premium Housing Materials – long-lasting and environmentally friendly
Fire accidents are easy to occur when you use electronic devices due to poor quality. Some power strip manufacturers adopted cheap materials that can't prevent electric shock at all. Some even use flammable materials that can heat up easily and cause the fire if the power strip is connected to several devices. So when choosing a power strip, you have to check the whether it is made of anti-fire materials. ABS fire-resistant materials are most frequently used in making a power strip. These materials are also durable enough to ensure long service life. PC shell is anti-scratching and waterproof, also making power strip useful in many other tough areas.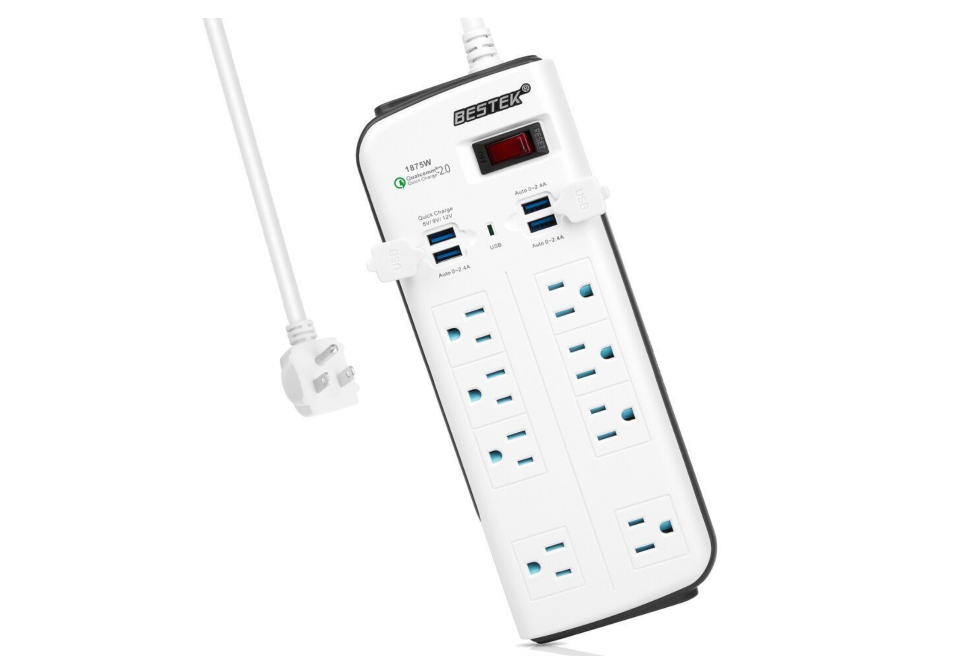 Long Cable Length and Good Thickness – ensure wider charging area and longer service life
You can see some wall power chargers and power strips with power cord. For more flexible applications, long power cable is of vital importance. In the kitchen, a long cable can allow you to use different cooking appliances at the same time to increase cooking efficiency. In the living room, you can place it on the desk, behind the furniture, or anywhere you want. Besides, the cable should be thick enough to accept high pulling tension. A 14AWG cables are international standard power cord thickness. To protect cable from damages under thousand times of pulling, some power strips are ruggedized designed to ensure up to 30000 times of buckling and up to 80KG of tension resistance.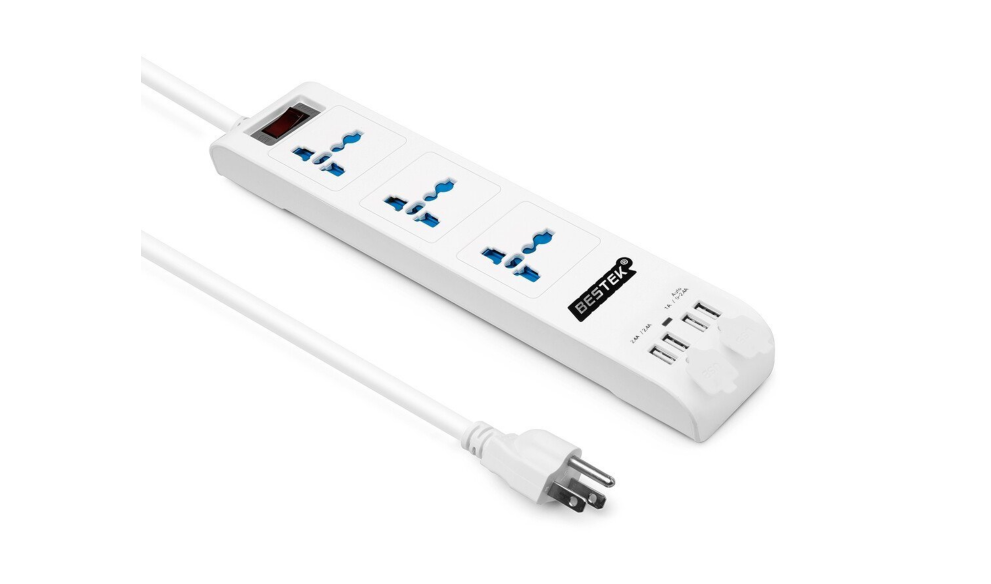 All-around safety Protections – protect you and your devices from damages
Power strips with multiple outlets can meet your various charging needs, but that also increase the risks of safety hazards when using so many devices at the same time with one power strip. Reliable power strip brand have introduced advanced safety protection technologies into their products. Your devices can be guarded against damages with full protections including protections of overloading, overheating, overvoltage, and short circuit. Power surges or spikes are easy to occur in thunderstorm days and is very harmful to electronic devices. Surge protected power strips can exactly protect devices from surges. Higher joules rating means higher surge protections. To protect devices to the maximum extent, good power strips often come with integrated circuit breaker that can cut off power timely when there are power problems and come back to normal when problems are handled. Some have indicator lights to get you alerted the charging status and find problems in time.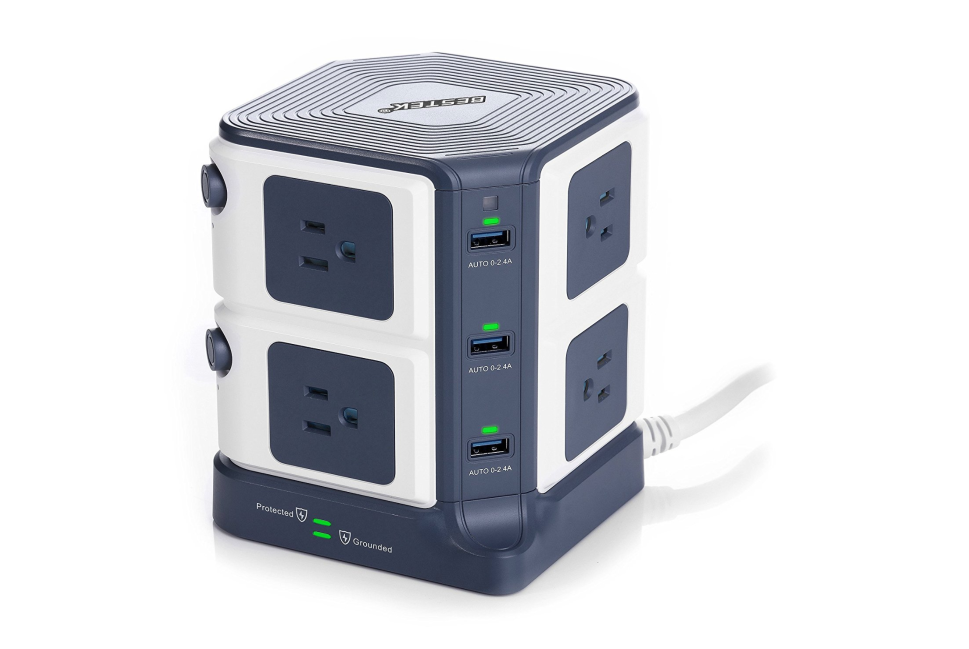 Approved Certifications – feel assured to use with professional approving 
Many power strips are announced to be made of the best quality materials and best safety protections, however, many buyers can't realize the deception until they find the device doesn't work few months later or the connected equipment is damaged. When choosing a power strip, check whether it is internationally approved. You can see many international certifications like UL, ETL, FCC and EC, etc. Those certifications are approved by authorities, so you can feel assured to bring one home with certification listed.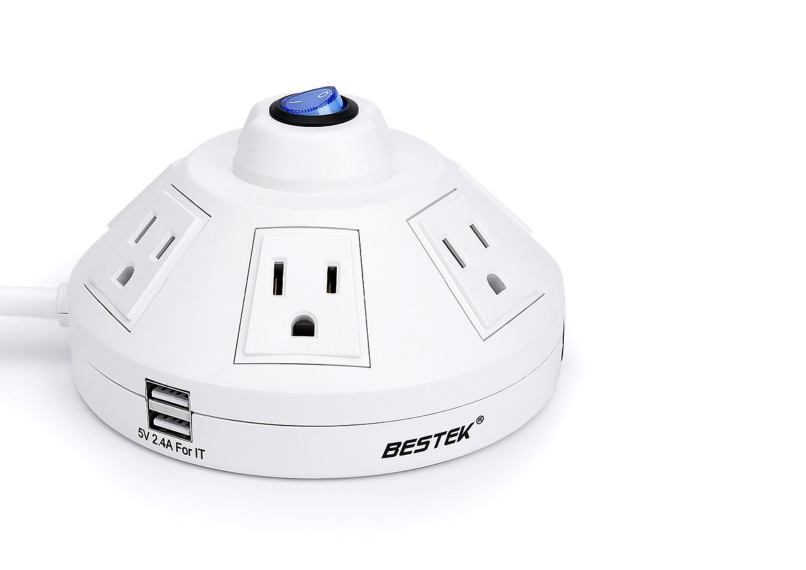 Original price:$19.99
Discount price:$17.59
code: QATJHXSU
Other Features to Make It easier – special features help you with special problems
Apart from the above basic features of a power strip, you can also find some power strips designed with special features to provide you a better using experience. Desktop power strips make full use of vertical space to save space and keep desk clean without cable clutters. Travel power strips provide extra plug adapters to allow you charge devices anywhere you go, ideal for worldwide travel. Rotatable power strips can be adjusted flexibly to give you the best charging position. Power strips with independent switches can control each charging outlet to save more energy. And power strips with safety doors can keep curious kids away from electricity. You can find many other power strips types that can help you deal with different problems.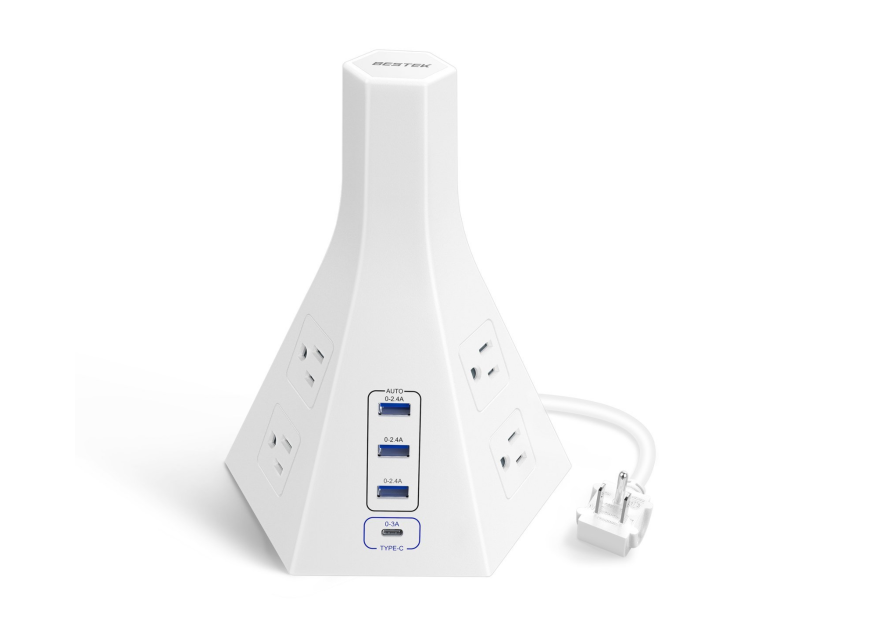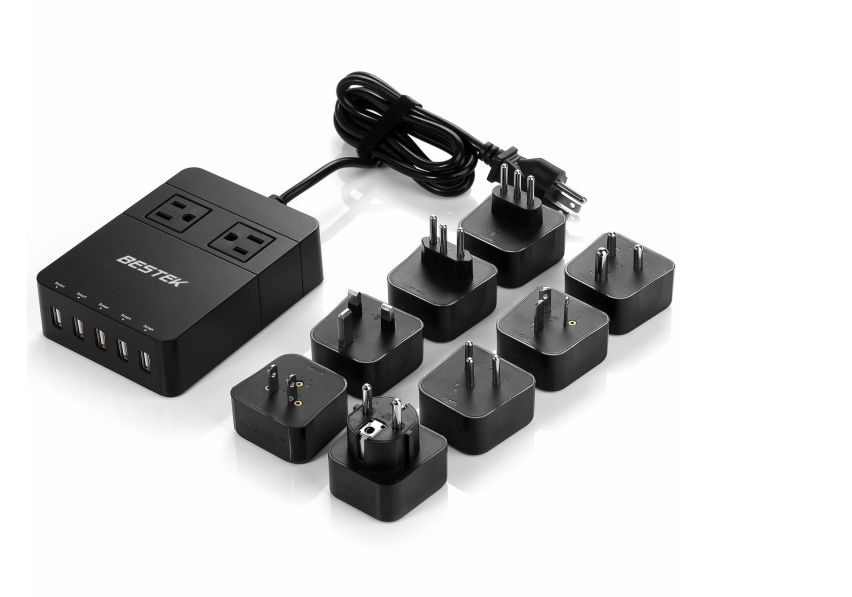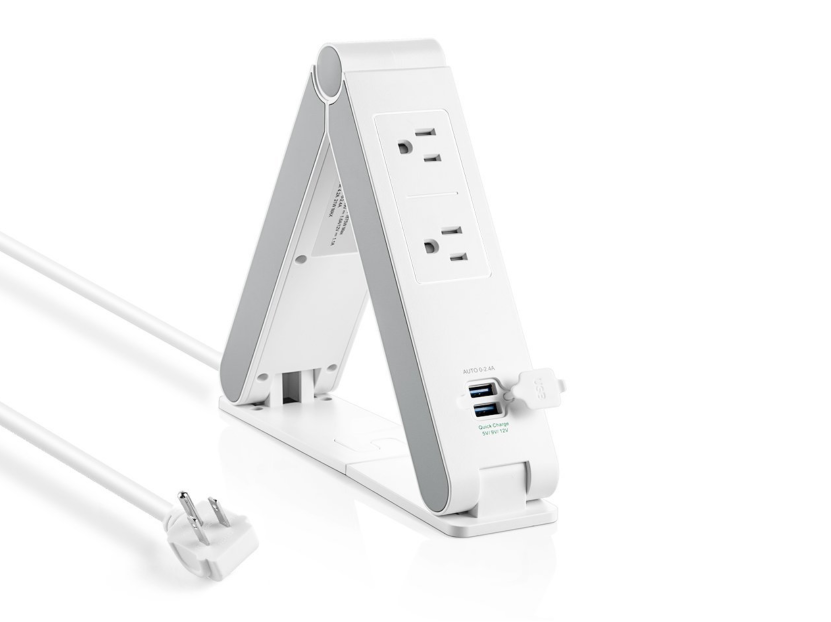 A good power strip is equipped with enough charging outlets, full safe protections, high-quality materials, fast charging speed, approved certifications and other special features. Choose a reliable power strip that can really meet all your needs.
Premium Material
Anti-fire shell and integrated copper design ensure high safety and conversion