BESTEK GIVEWAWAY! Dual-Mountable Cubic Power Strip and MORE
Power strips are what every family must have for charging multiple devices, while how to correctly install power strips is also a headache for most people. For easier use, power strips are often placed on the desk or furniture, but it is easy to move when you plug or unplug devices and children are easy to reach and take it to play. To make it safe and stable to use, it is better to mount or fix it somewhere higher or hidden. BESTEK dual-mountable cubic power strip offers you two easy installations to let you charge devices more safely and flexibly.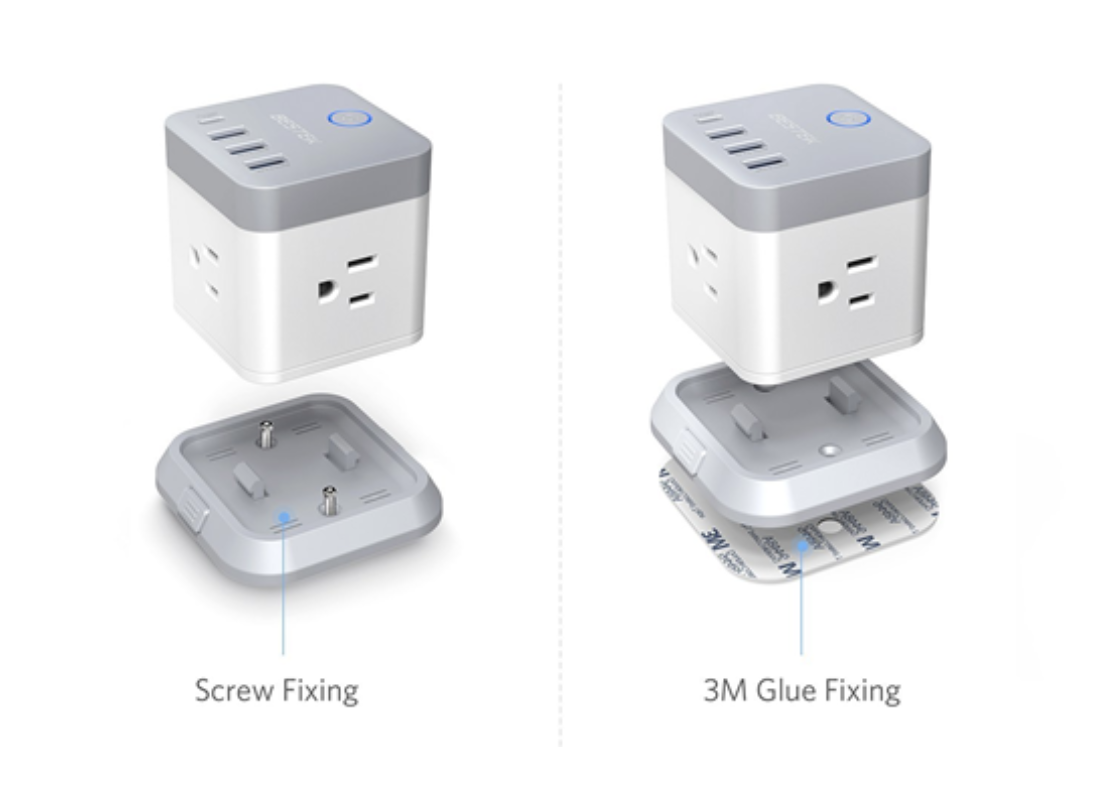 The mountable power strip comes with a detachable base that can be installed easily on any surfaces you want. Along with the package, there are a few screws and 3M plastic sticker. You can use the screw to nail the base to the wall to keep kids away from the device, or just paste it under a desk or furniture with the 3M glue to hide the cables and declutter your deck. Both the two mounting methods can fix the power outlet extender firmly and save space of your room, so such dual-mountable power strip is also perfect for study room, small personal room, and school dormitory which are limited in room space and wall charging outlets. The USB power strip is compact and portable. You can even take it to your office to help you manage the cables and give you a tidy working environment.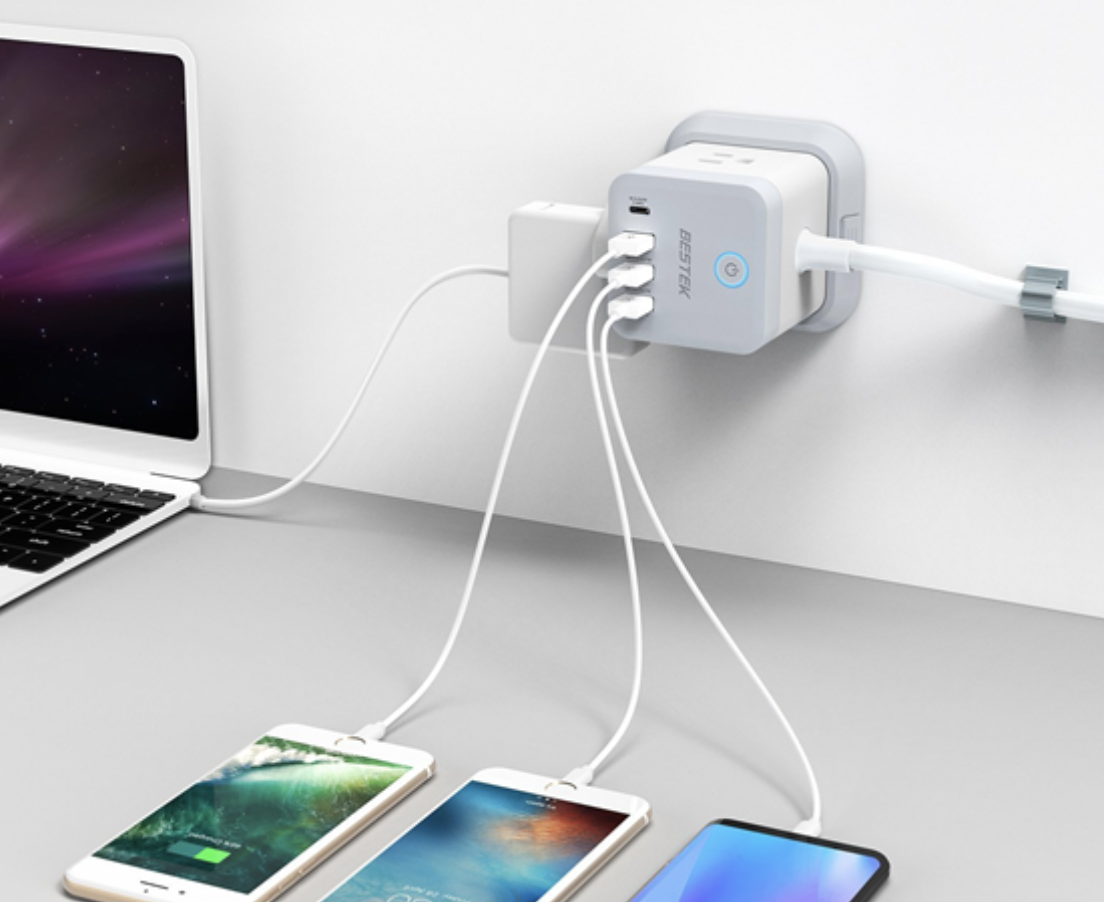 The cubic power strip has 3 AC outlets and multiple USB ports. The AC outlets are uniformly distributed on three surfaces so that you can charge computer, tablet, and other appliances from three directions without any interference and cable clutter. You can also charge multiple mobile devices at the same time. 3 smart USB ports are built-in advanced intelligent identification technology. No matter you charge cell phones, cameras, music players, speakers or other USB devices, the 3 USB ports can automatically detect your device and deliver the optimal charging speed for each one with up to 2.4A. Besides, there is a type-c port to allow you to charge Macbook Pro/Air, Galaxy Note, Microsoft Lumia, etc.
If you're trapped in desk cable clutters or limited charging outlets in small room, try this vertical USB power strip to make your room or desk tidier and make device charging easier. If you're worried about the safety of kids, the wall mountable power strip can keep kids away from electricity. Anyway, this is a compact but functional power strip that is suitable for home, office, dormitory, and many other places.
Great Christmas and New Year Giveaway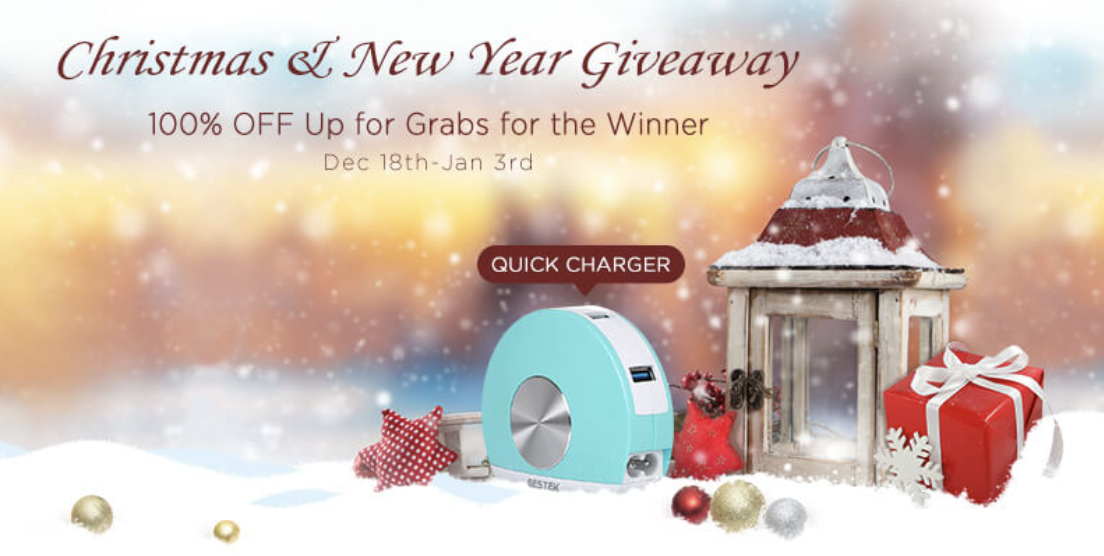 2017 Christmas and New Year festival are just around the corner! Over 100 pieces of Nice Free Gifts and large-denomination coupons are prepared here in BESTEK for you to celebrate the two big days! Quick to join us and grab the gifts in a funny way now!
Prizes for you
Free gifts

— Snail USB Quick Charger (Color subject to change, in total 100 pcs)
3 smart identification USB ports

One Type-C port with Max 3A

100V to 240V input for worldwide use

All-around safety protections
1 piece $500 gift card

 (Date: 12-15-2017~12-31-2017)

1 piece $1000 gift card

 (Date: 12-15-2017~12-31-2017)
Get more chances of winning
To get more chances to win the prizes, you can do as follows:
Register BESTEK official website –

 add 5 points

Like us on Facebook

 – add 2 points

Comment below the Facebook Christmas post

 – add 1 point

Like&Share the Facebook Christmas post

 – add 1 point

Following @bestekglobal on Twitter – add 2 points

Retweet the post – add 2 points

Learn about BESTEK INFLUENCER program (BESTEK INFLUENCER program

) – add 2 points

Visit our BESTEK official blog 

– add 1 point

Visit BESTEK Amazon Store

– add 1 point

Check out Christmas gift for you here

 – add 1 point
Good luck to you!