We can't help but agree that the cut in the price of the Essential Phone from $700 to $500 has made it one of the most affordable flagships. While the phone isn't perfect – it sure has gotten a lot better since its launch.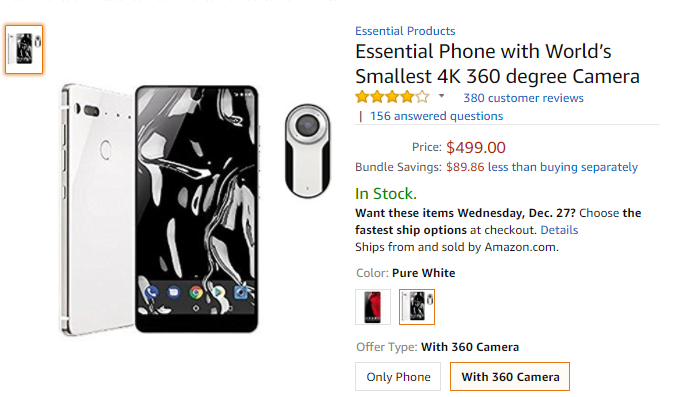 If you are on the lookout for a new phone to begin the new year, you can purchase the Essential Phone for $449 on Amazon. Or better still, throw in an extra $50 and get the world's smallest 360° camera too. The price cut applies to both the Black Moon and Pure White variants.
Essential has continued to push out more updates  to improve the performance of the cameras which is the issue people had with it when it launched. While it is still far from the Pixel 2 or iPhone X' camera level, the Essential PH-1's cameras have drastically improved. If you still are not satisfied, you can side-load modified versions of the Pixel's camera app too.
READ MORE: Essential Phone Users Receive Second Android 8.0 Oreo Beta, Final Stable Version Arriving Soon
Apart from the camera (and its lack of  an audio jack), the Essential Phone is one the best built phones in the market right now. You get a phone with a titanium frame and a ceramic back which is stronger and more scratch resistant than most if not all of the flagships released this year.