Unconfirmed Schematics Show The Huawei P20 Series With Triple Cameras
by Habeeb Onawole Dec 31, 2017 10:20 am3
The Huawei P11 won't be coming, instead it will be replaced by the Huawei P20. The name won't be the only change coming to Huawei's next flagship. There are also reports that it will come with three cameras on the rear. Images said to be schematics of the flagship series have leaked and they show the Huawei P20, P20 Plus, and a new P20 Pro all with triple rear cameras with various designs.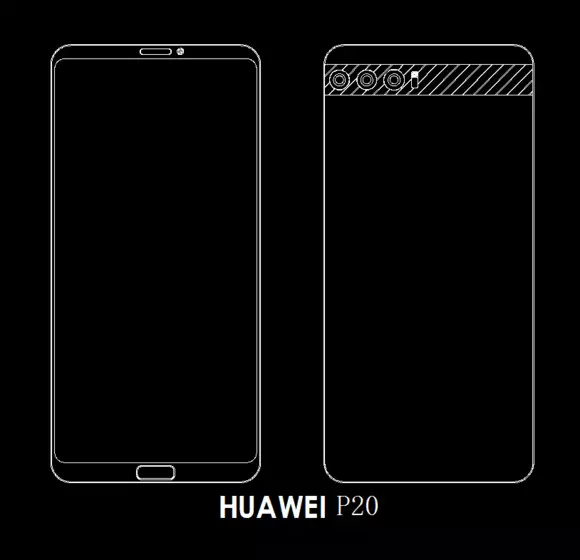 For those who don't remember, about a month ago there were a bunch of promotional images leaked by Evan Blass that showed the next Huawei P-series will come with "40MP, 3 lens rear (5x hybrid zoom) + 24MP selfie" developed by Leica. That leak is the genesis of the triple rear camera story.
According to the schematics, the Huawei P20, P20 Plus, and P20 Pro will all have thin bezels with an 18:9 display but only the Huawei P20 Pro will have a notch at the top and also a rear mounted fingerprint scanner.
Moving to the back, the three phones differ greatly. The Huawei P20 will have its three cameras arranged horizontally and positioned on the left side. The P20 Plus, on the other hand will have its own cameras arranged vertically but will also be on the left.
Last but not the least is the new Huawei P20 Pro which will also have a vertical arrangement but will be positioned in the middle with the fingerprint scanner below it.
The design of the phones will not be the only differences. It is reported that the Huawei P20 and P20 Plus will come with the Kirin 970 processor while the P20 Pro will come with a new and slightly more powerful Kirin 975 processor. All three of them are expected to have 6GB of RAM.
READ MORE: Huawei Mate 10 Reportedly Arriving on AT&T in February 2018
If we are to go by the launch of the P10 and P10 Plus this year, then Huawei may announce the P20 trio at MWC 2018. So there is still a good two months of more leaks before they are launched.