Live Photo of Sony Xperia XA2 Ultra Surfaces, Sports Dual Front Cameras
by Habeeb Onawole Jan 1, 2018 3:44 pm2
Sony's upcoming mid-range phone, the Xperia XA2 Ultra has appeared in a leaked photo. The photo reveals a number of details, but the key being the design which……is more or less the same as last year's.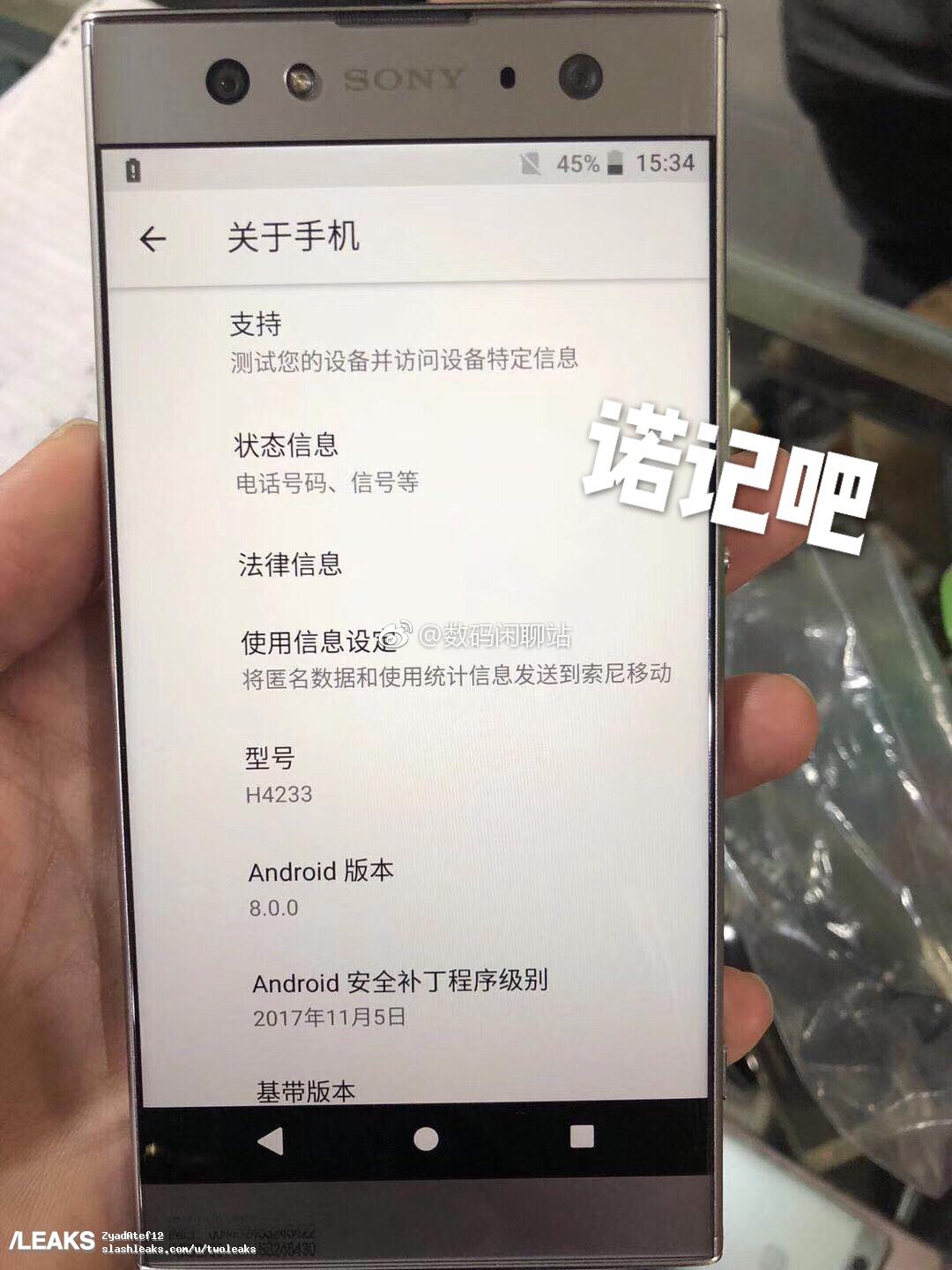 The Xperia XA2 Ultra keeps the huge bezels of its predecessor, the XA1 Ultra, although the lower one is a bit smaller. GFXBench says the display is 6.0" with a 1920 x 1080 resolution, so expect this phone to be big. There are a few new additions though.
First, the XA2 Ultra now packs dual front facing cameras positioned at opposite sides. One of the cameras is a 16MP sensor but the other isn't known yet. The phone still has a front LED flash which now sits on the left side of the bezel.
Another change in the design is the absence of a cut-out at the base. The XA1 Ultra has a slit on the lower bezel that made one think it has stereo speakers but it was just there for design purposes. Now, that it is gone, we can presume that the XA2 Ultra won't be getting stereo speakers either.
The photo shows the "About Phone" under the settings menu. As we can see, the model number is H4233 which confirms this is indeed the Xperia XA2 Ultra. It is running Android 8.0.0 Oreo and has November's security patch installed.
READ MORE: Sony H8216 Specs Leaked, Packs Snapdragon 845 Processor And Dual Cameras
According to GFXBench, the Sony Xperia XA2 Ultra will be powered by a Snapdragon 630 processor. It will have 4GB of RAM and 64GB of storage. It will also have a 21MP rear camera.