Counterpoint's 2017 Chinese Market Ranking Places Huawei At Top Spot, Xiaomi In Fourth
Research firm Counterpoint Research has released its statistical data for smartphone shipments in China for the entire quarters of 2017. The statistical data shows the global smartphone market shares for Q3 2017 as well as the mobile phone market shipment comprising both smartphones and feature phones.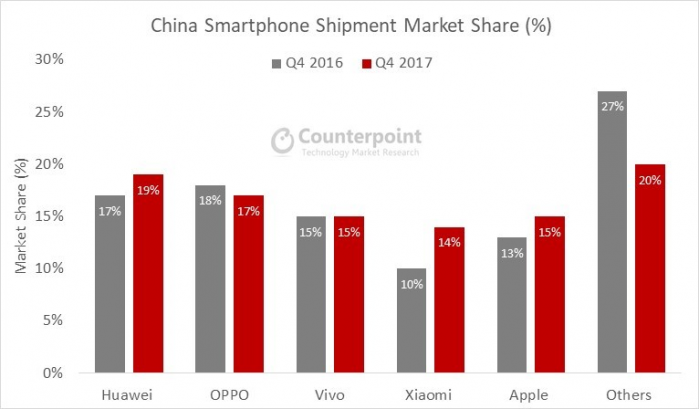 According to the report, last year was a not so positive one for the market in China as sales volume grew by 5% but there was a 1% drop in smartphone shipments compared to the previous year. Shipments took a dive with a  4% drop in market shares YoY in Q4 2017 but in Q3, shipments were up by 5% when compared to the same period last year. Counterpoint's James Yan, a research director explained that the year 2017 was a tough one for the Chinese handset makers due to a reduction in smartphone shipments. This is said to be due to the huge shipments made in 2016 to balance the huge marketing expenditures in the second half of the year which led to the need to clean up the inventory accumulated in 2016 last year. The surge in full-screen models being launched in China was in a way a move to get many buyers to replace their smartphones with new models which would help the overall sales. But then this created a lot of inventory of older models which had to compete with the new full-screen models.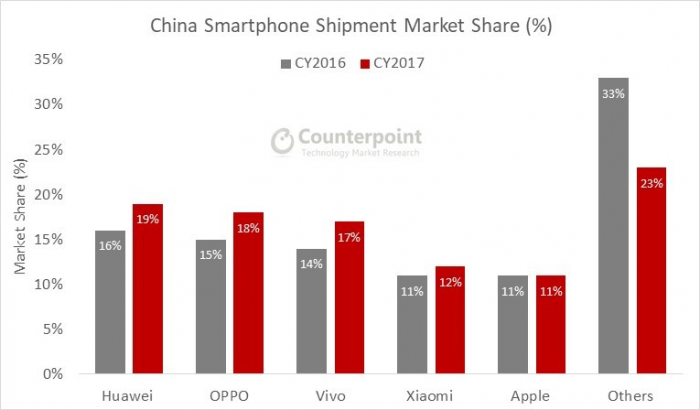 Read More: 7 Most Beautiful Chinese Smartphones of 2017
On the individual OEM scale, Huawei emerged as the number one Chinese smartphone brand. Huawei's shipments increased by 8% in the fourth quarter of 2017 and in the entire year it grew by 19% YoY. Thus, the company is the number one manufacturer n China last year. Don't forget also that Huawei still ranks among the top 3 global manufacturers. Huawei is closely followed by OPPO with an 18% growth and then Vivo is at number 3 with 17% compared to 2016's 14% growth. China's Apple, Xiaomi came in at the number 4 spot after resurging from a turbulent 2016. The company saw its market share grow by just 1% from 11% in 2016 to 12% last year. U.S giant Apple Corp. completes the top five with an 11% shipment. Apple's market share remained stagnant at 11% which is a result of slumping sales last year. Also worthy of note is the huge drop in the gross shipments by other mobile phone vendors from 33% to 23%.
(source)