Upcoming Huawei Smartwatch May Accept Gestures In The Air: New Patent Filed!
by Michele Ingelido ago0
Small display on smartwatches have always been an issue. In a world where apps are becoming more complex and displays getting bigger, smartwatches are not getting too much attention. But Huawei may be coming with a solution to this problem as it has filed a new patent which may totally change the situation. The patent has been filed at WIPO (World Intellectual Property Organization) and it shows an innovative technology.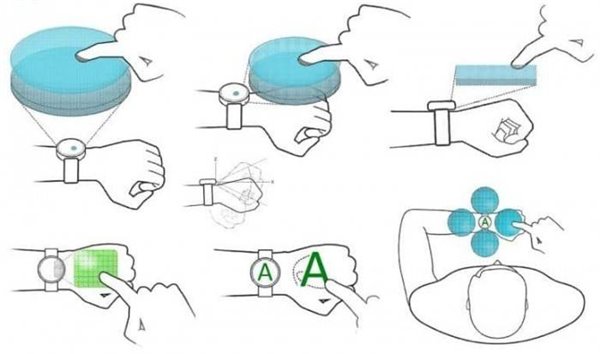 According to the images published, the Huawei smartwatch is equipped with a sensor that is able to project signals which can track the movement of the finger outside of the display. This Huawei smartwatch interacts with the user by tapping, writing, and drawing gestures both in the air and on the back of its hand. It seems that the projection can be done all around the smartwatch, with the back of the hand being the most comfortable position. Double-clicks, long-press and many other gestures become available out of the screen with this new technology, even though we still do not know if the smartwatch will be able to project the entire display out of the screen or whether its just a sort of a trackpad.
READ MORE: Huawei Patents Reveal Smartwatch Bezels Will Be Touch Sensitive
The tech inside the watch can accept gestures in letters too, as seen in one of the images where the user draws the letter 'A'. This could be the future of the smartwatches and it may give a new life to a market which is slowly declining in favor of smart bands and other kinds of fitness trackers. According to rumors, we may see this technology on the next wearable by the company, which may even be the Huawei Watch 3 with Android Wear. Obviously, do not expect an affordable price, if this tech makes it to the market.
(Via)