American Store Lists New Details and Price Of Moto G6 & Moto G6 Play
by Habeeb Onawole ago0
Lenovo owned Motorola should announce the new Moto series in Q2 2018. There have been lots of leaks in the last 2 months and we already have an idea of what to expect. However, American online store, Frys, already has the Moto G6 and Moto G6 Play listed with lots of new information about both devices.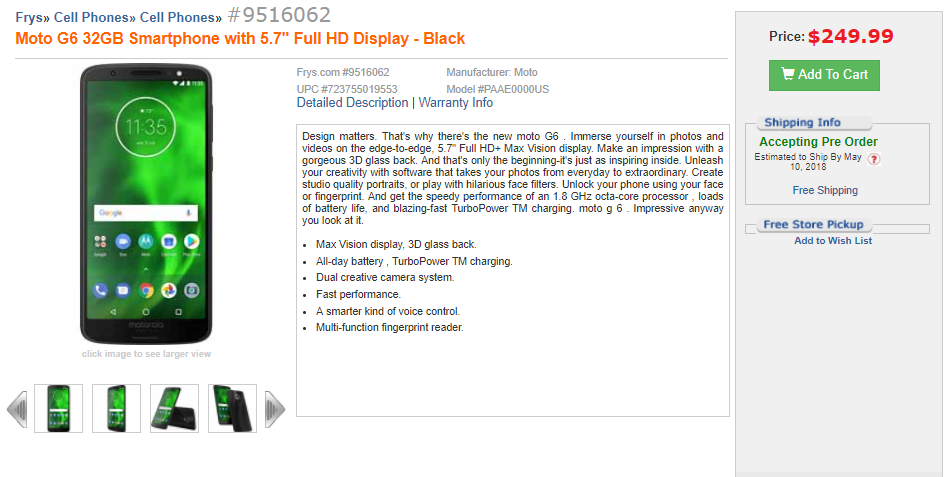 Moto G6
For the 6th-gen Moto G, Lenovo is switching to the trending 18:9 display and it has dubbed it Max Vision. The one on the G6 is 5.7" with a Full HD+ display with Gorilla Glass protection.
The back of the G6 has also gotten a redesign. Gone is the metal back and in its place is 3D glass. But not all has changed in the new Moto G6. For instance, it still comes with the series' signature water-repellent coating.
The Moto G6 packs dual rear cameras but Frys doesn't mention the pixel count for the sensors. It does say the front camera is an 8MP sensor with its own flash and also goes into detail about the new features of the camera software.
Selective focus and selective black and white are some of the old features that make a comeback but the new features are cool too. You can now add face filters in real time or pick a single color to pop while the others are black and white after taking a picture.
The camera also supports landmark recognition, object recognition, text scanning, and active photos which is just like live photos on iPhones. It also has support for Face Unlock.
The Moto G6 still has its fingerprint scanner in front and it does more than just unlock your phone. You can set it to unlock apps and also access websites with passwords on your laptop using a feature called Moto Key.
Motorola also says the fingerprint scanner can be used for navigation. Swiping to the left takes you back, a right swipe takes you to recent apps, a tap takes you home, and a long press locks the phone.
We all know Motorola phones run near stock Android with the addition of some pretty useful features. The famous Moto Actions are still there which lets you twist your wrist twice to unlock the camera or chop twice to turn on the flashlight.
But there is also Moto Display which lets you see new notifications or reply to messages without unlocking the phone. The Moto G6 will also never turn off the display as long as it senses that you are still looking at it. There is also a built-in blue light filter.
Frys doesn't mention some key specs like the processor type and RAM but says it is a 1.8GHz octa core chip with 32GB of storage. This variant likely has 3GB of RAM.
The Moto G6 has a 3000mAh battery with support for TurboPower fast charging. It also has a FM radio, Dolby Audio, and a MicroSD card slot.
Frys says the Moto G6 is $249.99 and is expected to ship May 10. This means a launch should be scheduled for April.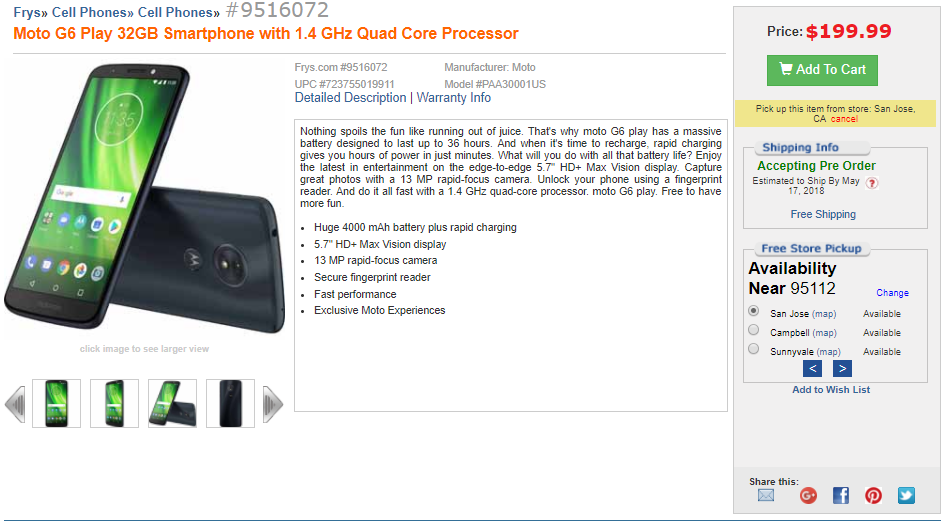 Moto G6 Play
Lenovo is releasing a Play variant of the Moto G6 this year. It has a 5.7" 18:9 Max Vision display like the G6 but with a 1440 x 720 (HD+) resolution.
It has a 5MP front camera with LED flash and a beauty mode, while a 13MP sensor sits on the rear. Sadly, there is no mention of all the cool features of the Moto G6 like live filters, object and landmark recognition, portrait mode, and active photos.
The Moto G6 Play's selling point is its 4,000mAh battery which Motorola boasts should last 36 hours on a single charge. The phone also has a fingerprint scanner, a microSD card slot, Dolby Audio, and supports Moto Experiences (Moto Display and Moto Actions). There is also a new voice assistant that lets you use your phone hands-free.
READ MORE: Motorola Moto X4 Gets Android 8.1 Oreo Update
The Moto G6 Play is powered by an unspeicified 1.4GHz quad-core Snapdragon processor with 32GB of storage. It is priced at $199.99 and is expected to ship May 17.