Apple iPhone X Is The World's Best-Selling Smartphone In Q1 2018, Xiaomi Redmi 5A Takes The Fifth Spot
According to the latest report from Strategy Analytics, the global smartphone shipment has reached 345 million in the first quarter of this year. During the same period, the report suggests that the Apple iPhone X has been the best-selling smartphone.
This is impressive given that the phone's pricing is on the costlier side as it starts at $999. According to the report, Apple has managed to sell around 16 million units of iPhone X in Q1 2018. And not just the best-selling smartphone, the top four best-selling smartphones are from Apple.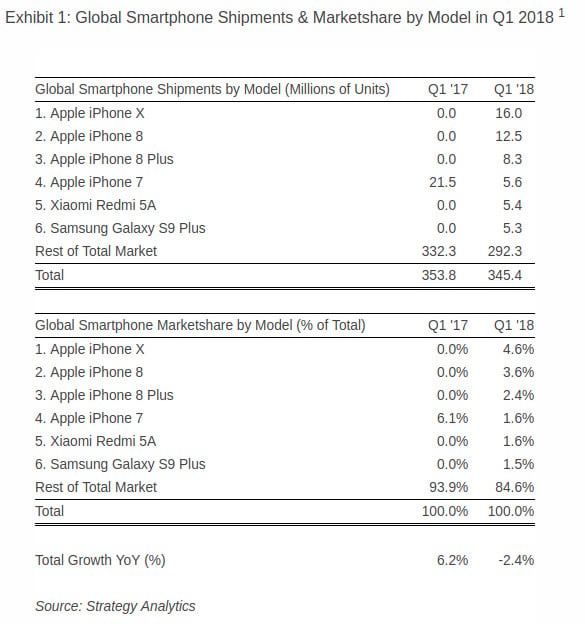 While the iPhone X has grabbed the first spot, the iPhone 8, iPhone 8 Plus and iPhone 7 stands at the second, third and fourth position in terms of best-selling smartphones globally for the first quarter of 2018. However, while the iPhone 7 accounted for 6.1 percent in Q1 2017, the iPhone X accounts for 4.6 percent.
Juha Winter, a Senior Analyst at Strategy Analytics, added, "We estimate the Apple iPhone X shipped 16.0 million units and captured 5 percent market share worldwide in Q1 2018. For the second quarter running, the iPhone X remains the world's most popular smartphone model overall. Apple has now shifted almost 50 million iPhone X units worldwide since commercial launch in November 2017. The Apple iPhone 8 and iPhone 8 Plus shipped 12.5 and 8.3 million units, respectively, for the second and third place. The previous-generation iPhone 7 shipped a respectable 5.6 million units for fourth place. Combined together, Apple today accounts for four of the world's six most popular smartphone models."
The fifth position is held by Xiaomi's Redmi 5A smartphone, making it the best-selling Android smartphone in the first quarter of 2018. It is then followed by Samsung's flagship Galaxy S9 Plus. While the Redmi 5A accounts for 1.6 percent with shipments of about 5.4 million units, the Galaxy S9 Plus accounts for 1.5 percent with 5.3 million units.
Read More: Apple Sold 52.2 Million iPhone And Generated $61.1 Billion Revenue In Q1 2018
Recently, the IDC report reported that iPhone models saw almost 3 percent growth worldwide in the quarter, at a time when the market as a whole fell 2.9%. According to the report from Strategy Analytics, the global smartphone market share saw 2.4 percent decline year-on-year.
(Source)