HMD Global will be holding a launch event on May 29 in Russia. The Finnish firm is expected to debut new phones that haven't been announced before. Rumors are rife that the company may debut the 2018 editions of the Nokia 3, Nokia 5 and Nokia 2. A leaked photo of the rear panel of the alleged Nokia 3 (2018) smartphone has surfaced online. It reveals that the smartphone will be arriving with an updated rear design compared to the original Nokia 3.
The leaked image shows that the mysterious Nokia phone features a hard plastic rear shell like the good old Lumia phones. The rear panel of the original Nokia 5 was more rounded and curved towards the edges whereas the Nokia 3 came with a rectangular back panel. Hence, it appears that the rear shell in the newly leaked image could belong to the rumored 2018 edition of the Nokia 3 smartphone.
The changes that can be seen on the back panel of the alleged Nokia 3 (2018) is the inclusion of an elongated camera module that can be found on the recent Nokia phones. Below the camera module is a round-shaped cutout that could belong to the fingerprint scanner. The original Nokia 3 did not feature a fingerprint reader. The presence of a rear-mounted fingerprint scanner on the rumored Nokia 3 (2018) suggests that it could be arriving with a tall aspect ratio supporting display.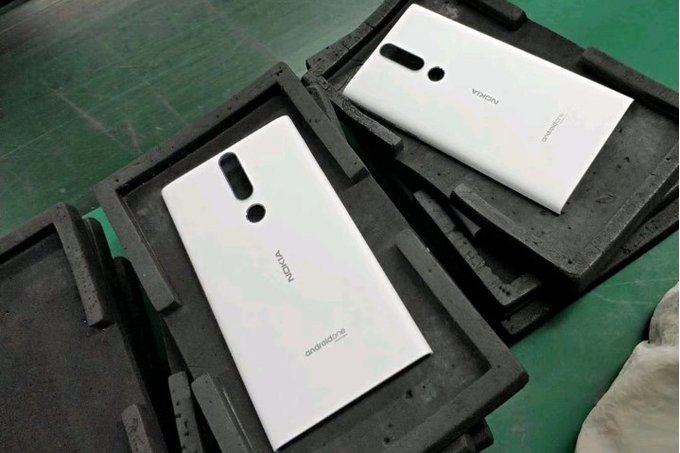 Read More: Nokia X6 Hands On Pictures: Nokia Hits With Its First Phone With A Notch
Apart from the company's logo, the rear panel of the alleged Nokia 3 (2018) features Android One branding towards the bottom. This suggests that this handset too may become a part of the Google's Android One initiative.
There is no information available on the specifications of the upcoming Nokia 2 (2018), Nokia 3 (2018) and Nokia 5 (2018). The Finnish firm has recently launched the Nokia X6 smartphone with notched display design. The company is also speculated to debut the rumored Nokia X7 and Nokia X5 that are likely to arrive with the same notched design as the Nokia X6.
(via)