Xiaomi Devices In Top 10 Best-Selling Phones of April 2018, But Galaxy S9 Duo Tops
by Michele Ingelido ago0
A new report by the popular research firm Counterpoint has just revealed the top-selling smartphones of April 2018 in the global market. The top 10 published by Counterpoint highlights the supremacy of Samsung and Apple in the mobile sector, and Xiaomi is the only other brand which appeared in the ranking. At the first place, there are Samsung Galaxy S9 and S9 Plus, followed by Apple iPhone X, iPhone 8 Plus and iPhone 8.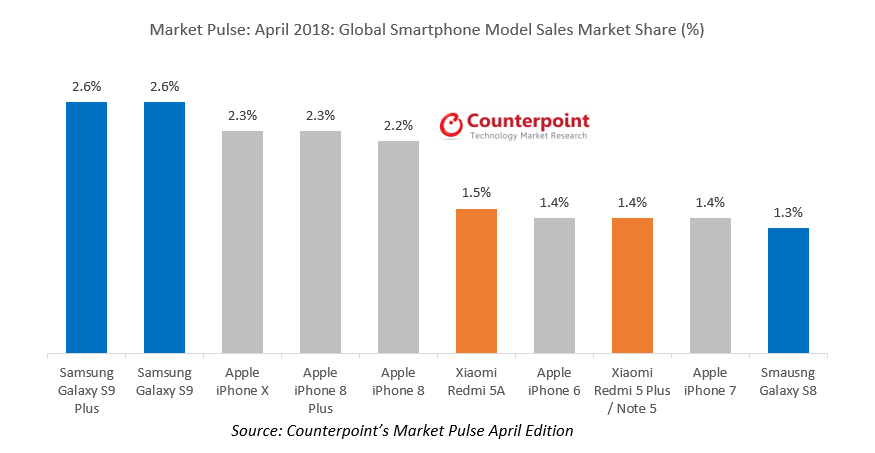 The second half of the ranking starts with Xiaomi Redmi 5A, which is the most entry-level and affordable smartphone by the Chinese hi-tech giant. At the 7th place, there is again Apple with its older iPhone 6, while at the 8th place there is Xiaomi Redmi 5 Plus that is known as Redmi Note 5 in India.
RELATED: Xiaomi Shipped 28 Million Smartphones In Q1 2018, Revenues Revealed
The last two spots are taken by iPhone 7 and Samsung Galaxy S8. Note that every phone in the ranking except the ones by Xiaomi is a flagship or a former flagship. The success of Samsung Galaxy S8 derives from consistent price cuts by the Korean giant on its former flagship.
It is good to see that most people still prefer to buy a flagship, even though the differences between them and affordable devices are decreasing day by day.
(Source)